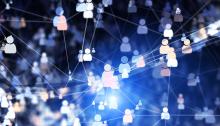 On Tuesday, November 16, 2021, the Cochrane Community gathered together to hear updates on Cochrane's approach to Open Access, celebrate the 2021 Prize and Awards winners, and hear from representatives of the Cochrane Climate-Health Working Group. 
Recordings from the event are available below. Statistics of attendance at the event and a summary of the event evaluation survey responses can be found here.  
Welcome, Introduction, and Open Access
2021 Prizes and Awards
Cochrane Climate Health Working Group
This was the first in a series of free, online events open to everyone in Cochrane. Members will have the opportunity to meet colleagues, hear about and celebrate achievements from Cochrane Groups and take part in active discussions to help shape Cochrane's organizational priorities for 2021/2.
These 90 minute online events are planned throughout 2022 – the next event is planned for 15 February 2022. 
You can suggest future event topics by emailing: meetings@cochrane.org 
26 November 2021