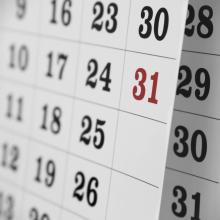 A round-up of upcoming Cochrane events and conferences
For workshops and courses, please see the Training site listing. 
To have your non-training event listed here or to let us know about a conference you are attending, please let Sabrina Khamissa know at skhamissa@cochrane.org

12th Croatian Cochrane Symposium
Date: 3 November 2020
Location: Online
Hosted by: Cochrane Croatia
Description: This year's Croatian Cochrane Symposium is dedicated to public health for the first time and will point to the need and importance of evidence from Cochrane's systematic reviews in this area. The Symposium will present relevant scientific evidence in the field of public health, especially vaccination, screening tests, public health measures to improve health of children and young people. It will also discuss important clinical findings in the light of public health, as well as the path from clinical trials through systematic examinations all the way to the development of clinical guidelines, all with an emphasis on COVID-19. In addition, the symposium provides an opportunity to highlight key methodological features necessary for a good understanding of the results of this high-value research, interpretation and applicability of scientific evidence in the context of current knowledge and clinical relevance, all with clear and unambiguous, reliable, clinically focused answers on patient care and better decision-making for the health of the entire population.
The 12th Croatian Cochrane Symposium will be held on November 3, 2020 on "Cochrane's Evidence for Improving Public Health". Due to the epidemiological situation, the symposium will be held online.

Link: https://croatia.cochrane.org/news/12th-croatian-cochrane-symposium-0 
August 31, 2020