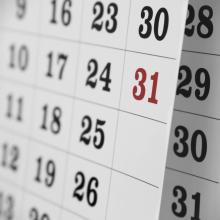 A round-up of upcoming Cochrane events and conferences
For workshops and courses, please see the Training site listing. 
To have your non-training event listed here or to let us know about a conference you are attending, please let Sabrina Khamissa know at skhamissa@cochrane.org
Inaugural symposium of the Amsterdam Satellite of Cochrane Work
Date: 6 September, 2019
Location: Vrijzaal of Amsterdam Medical Center
Hosted by: Amsterdam Satellite of Cochrane Work
Description: Are you somehow involved with research to improve the health and safety of workers? Either by conducting said research or by implementing its results into practice? If yes, then this event is a prime learning and networking opportunity for you. This symposium hopes to provoke and stimulate your ideas about the topic of work participation.
More information: See Cochrane Work website and register via email.
 
Symposium 25th anniversary Cochrane Netherlands
Date: 4 October, 2019
Location: Utrecht, Muntgebouw, Netherlands
Hosted by: Cochrane Netherlands
Description: Renown colleagues from our national and international Cochrane network will present their work and we will organize a series of hands-on workshops, such as Network Meta-analysis, Responsible research practices, Peer review, and Narrative synthesis of quantitative data.
More information: See 'save the date' information on the Cochrane Netherlands website
Symposium on using qualitative evidence to inform decisions in the SDG era
Date: 9-11 October 2019
Location: Brasilia, Brazil
Hosted by: Oswaldo Cruz Foundation in collaboration with the Norwegian Institute of Public Health
Description: Are you interested in qualitative research and the UN Sustainable Development Goals (SDGs)? Are you working within health, education, social welfare, crime and justice, the environment, agriculture or other related sectors? Researchers, policy makers, research commissioners and other stakeholders from across the world are invited to attend the first Symposium on using qualitative evidence to inform decisions in the SDG era.
More information: Symposium website
The East Asia Cochrane Alliance Symposium
Date: 22-24 November 2019
Location: Taipei, Taiwan
Hosted by: Cochrane Taiwan.
More information: Symposium website
REWARD | EQUATOR Conference 2020
Date: 20-22 February, 2020
Location: Berlin, Germany
Hosted by: Hosted by the QUEST Center at the Berlin Institute of Health
Description: The conference will focus on 'Sharing Strategies for Research Improvement : Challenges and opportunities for Improvement for Ethics Committees and Regulators, Publishers, Institutions and Researchers, Funders – and Methods for measuring and testing Interventions'
More information: Conference website
The Ninth International Congress on Peer Review and Scientific Publication
Date: 12 September-14 September, 2021
Location: Chicago, IL, USA, at the Swissotel Chicago
Hosted by: JAMA, BMJ, and Metrics
Description: Our aim is to encourage research into the quality and credibility of peer review and scientific publication, to establish the evidence base on which scientists can improve the conduct, reporting, and dissemination of scientific research.
More information: Peer Review Congress website or email: jama-peer@jamanetwork.org
July 4, 2019