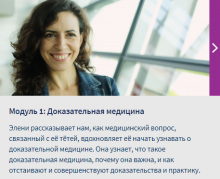 Cochrane is delighted to announce the launch of Cochrane Evidence Essentials modules in Russian
Cochrane Evidence Essentials is an introduction to evidence-based medicine (EBM), clinical trials and Cochrane evidence. It was originally designed for healthcare consumers (patients, care givers, family members), policy makers, and members of the healthcare team. In its original language – English – Cochrane Evidence Essentials proved to be especially valuable to the growing English-speaking community of patients, carers, and family members who work alongside researchers to co-create Cochrane evidence.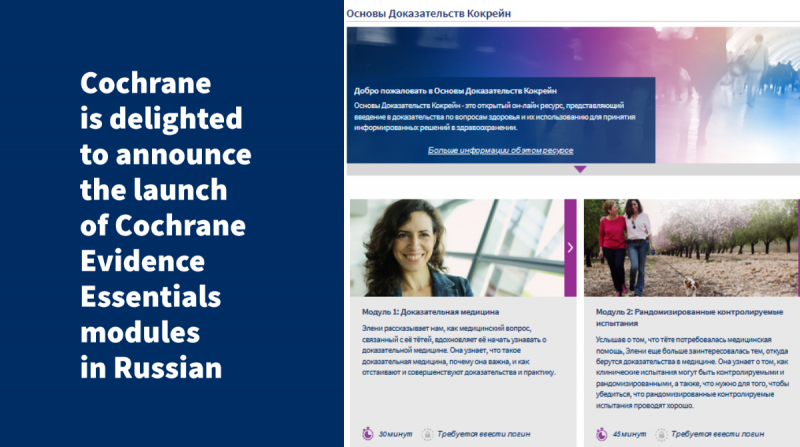 Professor Liliya Eugenevna Ziganshina, Director of Cochrane Russia, commented on the launch of the modules in Russian language:
"At Cochrane Russia we are delighted and privileged to contribute to the translation of Cochrane Evidence Essentials. This was exciting work, involving language, methodology, and clinical expertise. Producing Cochrane Evidence Essentials in Russian was initially begun by a resident in surgery from the Far East of Russia, Rouslan Zhasybaev, of the Far East State Medical University. Rouslan translated some of the major concepts into Russian in a form of Powerpoint presentation, and came to Cochrane Russia for advice with many concepts. This proved to be neither simple nor straightforward for understanding and translation! With Russian Translations Manager, Ekaterina V. Yudina, we delved into the project and it became not only a fascinating experience, but, importantly, an empowering exercise for all of those involved! It became one of the key components of Cochrane Russia Knowledge Translation.
We believe that Cochrane Evidence Essentials in Russian will become a wonderful and unique educational resource for all residents, PhD students, and researchers interested in evidence based medicine (EBM). Cochrane Evidence Essentials in Russian will give them a fascinating learning opportunity and equip them with essential set of skills and knowledge base for evidence-based research in health for clinical, research, teaching, and personal development.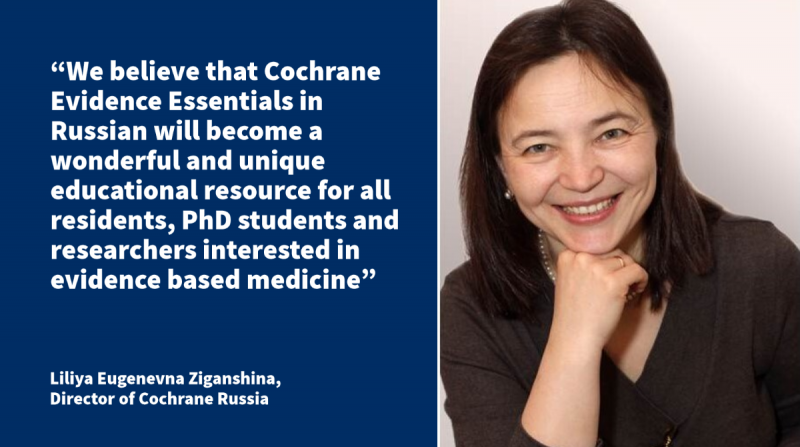 This becomes even more important in the current Russian EBM environment, with growing recognition and respect for Cochrane and increased uptake of Cochrane review Plain language summaries, translated into Russian.
We hope that the Russian version of Cochrane Evidence Essentials will contribute to better training in EBM in Russia, promoting improved understanding and use of Cochrane Reviews in clinical decision-making, training, and research all over Russia and beyond."
Cochrane Evidence Essentials includes four free online learning modules, presented in the form of a story. The learning is interactive, with things to read, watch, and listen to; quizzes; and ways to check your learning. There are links to further resources for those who wish to continue learning about a particular topic.
The modules have been co-produced by healthcare consumers and researchers, with the support of Cochrane's Central Executive Team.
October 12, 2021