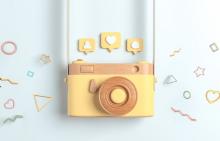 Our Strategy to 2020 aims to make Cochrane the 'home of evidence' to inform health decision making, build greater recognition of our work, and become the leading advocate for evidence-informed health care. To meet our goals we have expanded our social media platforms to include Instagram! Instagram is a free photo and video sharing app. Some Cochrane Groups are already using the app, including Cochrane France,  Cochrane Russia, Cochrane Iran, Cochrane UK, Cochrane Rehabilitation, and Cochrane Common Mental Disorders.  We also have an account for the Cochrane Colloquium that will be passed to each host Centre annually.
It's connected us with a different demographic then some of our other platforms – so far our audience is young (18% 18-24, 53% 25-34, and 19% 35-44) and mostly students or in their early career (nurses, doctors, dentists).
If you are using Instagram we invite you to follow us at @cochraneorg 
You can take a a look at our Instagram profile on youer desktop here.  
If you are thinking about Instagram as a dissemination platform for your group or currently have an account, please review these tips.
March 29, 2019