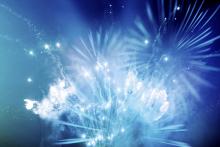 The Cochrane Insurance Medicine Field has recently celebrated its fifth anniversary.  In this Cochrane Community blog, Adrian Verbel, Cochrane Insurance Medicine Coordinator talk about the successes and challenges of the past five years, their KT strategy, working in collaboration with partners and other Cochrane Group, and their plans for the future.
Insurance Medicine (IM) is about making health-related judgments on diagnosis, prognosis and effectiveness of interventions in the context of insurance coverage. It is important that these decisions are informed by the best available evidence, which is why Cochrane Insurance Medicine (CIM) was created!

Cochrane Insurance Medicine was established in 2015 with support of Insurance Medicine (IM) researchers from:
the Dutch Research Center for Insurance Medicine,
the unit Evidence-based Insurance Medicine, Research & Education (EbIM) at the University of Basel in Switzerland,
the Division of Insurance Medicine at Karolinska Institutet in Sweden, and
the McMaster University in Canada.
Since then, our aim has been to make IM more evidence-based, promoting the production, dissemination and use of scientific evidence to support IM practice. A central part of our work is the development of knowledge translation strategies and products.
We are proud of our Cochrane Corners
We established the 'Cochrane Corners' sections with the support from the TBV journal (the Netherlands) and Suva Medical (Switzerland). We work with Cochrane Work to publish evidence summaries of individual Cochrane reviews. We always start with a 'practice case' which is a scenario to which we apply the evidence. These practical examples support people in how to use scientific evidence for making health decisions in insurance medicine.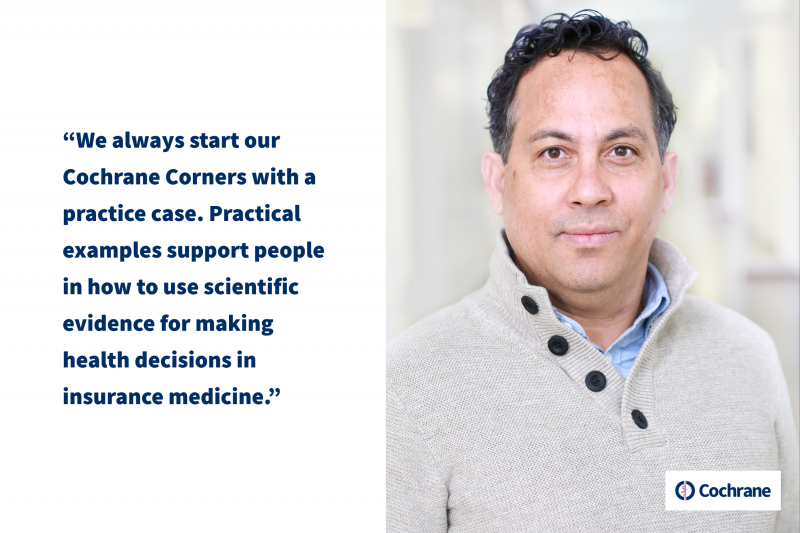 Our target audiences are physicians, other health professionals, managers and decision-makers, the Cochrane Corners have been a very useful way to disseminate Cochrane evidence to them. We publish Cochrane Corners in different languages to reduce language barriers for the use of evidence (English, Dutch, German and French).
Our partners and collaborations are key!
The key word is synergy. Identifying common interests, overlapping areas of work and the capacity for team working, has been critical for generating synergies and productive collaborations with Cochrane Work and other partner institutions. A good example of this was our 2016 survey exploring the evidence and training needs of IM professionals in Europe. Collaborating with partners who knew our target audiences allowed us to develop tailored strategies and to progress faster. The results of the survey gave us a good overview of the needs and barriers that IM professional face when using scientific evidence –helping us address their needs better. The survey showed that 40% of 662 participants did not know what Cochrane is or what it does. After focusing our efforts on raising our profile we have seen a slow but continuous increase in the number of subscribers to our newsletter and the number of visits to our website.
Our knowledge translation strategy has helped
Using the results of the 2016 survey we developed a knowledge translation strategic plan. One of our main goals is to advocate for the production and use of IM evidence.  As one of the strategies, we developed a case description, showing the current limitations in the availability of IM evidence, the impact of the lack of evidence on social security systems and the society and finally, the role that scientific evidence plays addressing these issues.  We use this at in as many places as we can to present our case – to keep knocking on different doors.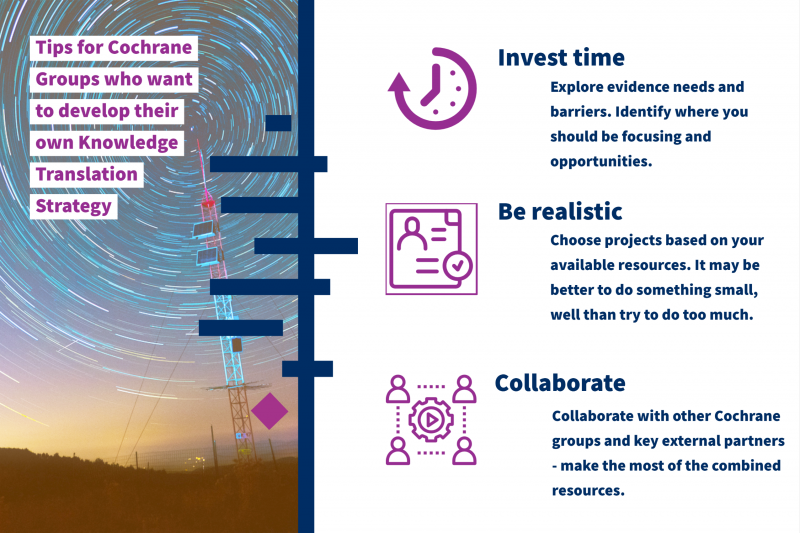 The future looks bright
We are working with Cochrane Work on a number of exciting projects over the next few months and years, making the best use of the skills and enthusiasm across the Cochrane network, including:
Developing an evidence map on work participation then using this to prioritize relevant topics for five new Cochrane reviews in the area of work participation.
Developing a set of core outcomes on work participation to generate a more standardized measurement of work participation outcomes in future trials.
Exploring different strategies to compile and disseminate relevant Cochrane and non-Cochrane evidence.
We are excited to see what the next 5 years brings.
Adrian Verbel, Cochrane Insurance Medicine Coordinator
Regina Kunz, Cochrane Insurance Medicine co-Director
Emilie Friberg, Cochrane Insurance Medicine co-Director
Jan Hoving, Cochrane Insurance Medicine co-Director
November 9, 2020