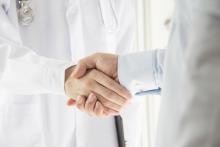 The World Health Organization (WHO) Executive Board, during its meeting in January 2016, decided to maintain Cochrane's status as a non-governmental organization (NGO) in official relations with the WHO. Our report of activities for 2013-2015 and our plan of work for 2016-2018 (reported on earlier here) were both approved. 
This WHO decision is important. Cochrane's official relation status allows us to attend, as an observer, a range of WHO meetings, and facilitates all other interactions with WHO.
We would like to thank you all once again for your continuing commitment and engagement in working with WHO, through your various Cochrane activities and roles.
Your suggestions to further strengthen our relation with WHO are most welcome. We would also like to know about your engagements with WHO – in meetings, expert groups, or other projects – allowing us to build on all existing connections in making the most of this strategic partnership. 
Sylvia de Haan, Partnerships Co-ordinator, Communications and External Affairs
March 9, 2016