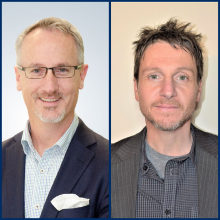 We are grateful to Craig and Alex for their excellent leadership of Cochrane Nursing, and we wish them well as they move on to new adventures. In 2009, JBI was instrumental in establishing a worldwide nursing network, focused on disseminating Cochrane Reviews related to nursing and supporting their use in practice. Since 2009, Craig has actively participated in the activities and expansion of Cochrane Nursing, which has expanded significantly and now has over 1400 members globally. In 2015, Alex joined the Field and has grown the active dissemination program to include over 350 summaries of Cochrane Reviews in 15 different nursing journals, including publications in Spanish, Hebrew, and Portuguese. They have also established a Wikipedia project to ensure Cochrane Reviews relevant to nursing are referenced and paraphrased on appropriate Wikipedia pages.
Craig has also been a highly valued member of Cochrane's Fields Executive, and the Fields representative on the Cochrane Council, including terms as co-Chairs of both committees; prior to this he was a co-convenor in the (then) Cochrane qualitative methods group. Alex was an instrumental part of the KT Evaluation Support Working group in 2020. We thank them again for their outstanding contributions to Cochrane; we will miss them greatly but wish them all the best in their next endeavours. 
Kathy Mahan and Patricia Jabre, Co-Chairs of the Cochrane Fields Executive Committee, said: "The Fields Exec has had the wonderful opportunity of working with the leaders and staff of Cochrane Nursing over the years, and of working with Craig as a member and then as co-chair of the Exec. Craig's openness, calm, good humor and expertise has been a true support to all of us. We will miss the positive energy he brought to our meetings, and the lovely times at all the Cochrane events. Wishing all the best for what the future holds."
New opportunities for supporting the leadership of Cochrane Nursing
With the departure of Craig and Alex comes an opportunity within Cochrane Nursing. We are looking for a new team who can build on the success and look for opportunities to grow the Cochrane Nursing Field.
If you are interested in finding out more about potential opportunities to have a global role in supporting evidence-based nursing practice, please contact Karen Head 
May 4, 2021