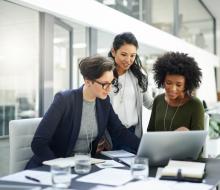 Post: Associate Editor
Location: Flexible
Specifications:  Full time/part-time. Permanent contract, subject to 6-month probationary period
Salary: Up to £45,000 dependent on skills and experience
Closing date for applications:  30th November 2017 
Context
Cochrane is creating eight new Networks of Cochrane Review Groups (CRGs) responsible for the efficient and timely production of high quality systematic reviews that address the research questions that are most important to decision makers. The creation of these thematic Networks provides an exciting opportunity for experts in the field to join Cochrane's new editorial leadership and help the organization deliver its Strategy to 2020 objectives.
The Networks cover the review production areas of:
Acute and Emergency Care;
Brain, Nerves and Mind;
Cancer;
Children and Families;
Circulation and Breathing;
Long-term Conditions and Ageing (two distinct Networks); and
Public Health and Health Systems.
With the creation of the Networks, Cochrane will reassign members of the team carrying out pre-publication screening of reviews to work directly with the Networks as Associate Editors.  We are seeking to appoint at least 1 FTE Associate Editor to become part of the team.
The team will focus on continuing supporting and developing processes for quality assuring Cochrane Reviews, with a particular emphasis on earlier screening of reviews, protocols and updates against the MECIR quality standards and helping to develop resources and guidance on quality assurance of Cochrane Reviews.  In addition, the Associate Editors will support other activities that will contribute to the development of the networks, including supporting prioritisation activities, and development of a strategic or development plan for the network.
Accountability and Responsibility
The Associate Editor is accountable to the Senior Editor within the CEU with responsibility for review quality.
The Associate Editor will play an operational role in:
Supporting network Senior Editors
Helping groups to identify and manage poor-quality reviews in the early stages of the review process;
Providing back-up screening and editorial support to CRGs within the Network;
Supporting the development and implementation of appropriate and consistent editorial processes for the Network;
support the Senior Editor in the communication between the Network and CET with respect to issues of quality, editorial process, training, technology, knowledge translation, and innovations of methods in Cochrane Reviews.
Supporting prioritisation and the development of the Network strategic plan.
Person specification
The Associate Editor will join the team which has been working with CRGs through
the CEU screening programme, and will work with one or two named Networks.
Essential attributes:
Degree in relevant field or equivalent
An understanding of the importance of systematic reviews to clinical decision making
Familiarity with Cochrane guidance and standards on the design, conduct, and reporting of systematic reviews, including MECIR and GRADE methods.
Intermediate level IT skills, including Word, Excel and PowerPoint
Knowledge and skills relevant to the systematic review process
Strong organization and prioritization skills
Attention to detail
Excellent written and verbal communication skills
Ability to work methodically and accurately
A pro-active approach to problem-solving
Experience of conducting Cochrane systematic reviews
Past or present experience of providing technical editing for systematic reviews
Desirable attributes:
An ability to develop and maintain working relationships with key stakeholders
Hold an editorial position within Cochrane (e.g. Managing Editor, Editorial Assistant, Cochrane Review Group Editors, including scientific, methodological, or statistical editors)
Term of appointment and recruitment process
This position is open to anyone who meets the requirements described above.
All applications will be reviewed by the Editor in Chief, the Deputy Editor in Chief, and the CEU Senior Editor with responsibility for review quality.
We are open to job share applications that describe how the functions will be divided, and how continuity will be achieved. We would also welcome applications from candidates wishing to undertake this role as a part-time secondment from their employer.
The appointment process will consider the need for all aspects of diversity, including those of gender, age, experience, language and geographical location.
To apply please send a letter and Curriculum Vitae to recruitment@cochrane.org by Monday 30th November 2017.
About Cochrane
Cochrane is a global independent network of researchers, professionals, patients, carers, and people interested in health.
Cochrane produces reviews which study all of the best available evidence generated through research and make it easier to inform decisions about health. Cochrane is a not-for-profit organization with collaborators from more than 130 countries working together to produce credible, accessible health information that is free from commercial sponsorship and other conflicts of interest. Our work is recognized as representing an international gold standard for high-quality, trusted information.
November 17, 2017