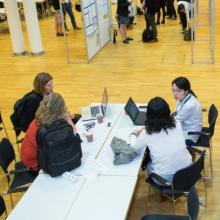 Specifications:                               Full Time
Salary:                                                 Competitive
Location:                                           London
Application Closing Date:        18 February 2018

This role is an exciting opportunity to join Cochrane's Senior Management Team as Head of our Knowledge Translation Department to make a difference in the field of health care decision-making worldwide. 
Cochrane is a global, independent network of health practitioners, researchers, patient advocates, and others, responding to the challenge of making vast amounts of research evidence useful for informing decisions about health. We do this by synthesizing research findings to produce the best available evidence on what can work, what might harm, and where more research is needed. Our work is recognized as the international gold standard for high-quality, trusted information.
This is a newly-created post offering the opportunity to lead Cochrane's organizational implementation of its new Knowledge Translation (KT) Framework and Strategy, which seeks to maximize the dissemination, use, and impact of Cochrane evidence.  The Head of Knowledge Translation will manage the Central Executive Team's own KT work, including the production of KT outputs (external and internal communications, dissemination, media outreach, multi-lingual strategies, brand marketing, and events); and facilitate and support the development of KT partnerships, ensuring that they are provided in an effective and efficient manner to support Cochrane's strategic aims and operational activities. 
We are looking for a self-motivated and highly organized individual able to work effectively and collaboratively with a diverse range of contacts across the world. The successful candidate will also have:
Significant leadership experience of working within a senior management team and in a similar role.
An excellent understanding of Knowledge Translation approaches and methodology, particularly in relation to health/policy/science.
An excellent understanding of communications and external affairs, particularly in relation to health/policy/science.
Demonstrable experience of leadership and vision in designing, leading, and managing major knowledge management, communications, or external relations projects or initiatives, including online.
Excellent communication and interpersonal skills (both verbal and written), and a collaborative management style.
Demonstrable experience of change management, project management, and performance management, preferably with geographically-dispersed and multi-functional teams.
Experience working with international cross-cultural teams and in languages other than English.
Experience in developing communication and branding strategies and implementing them.
Self-motivated and results-oriented, with excellent organization and time management skills, including the ability to work to deadlines and flexible hours as needed.
Ability to travel internationally (approximately 3-4 times per year).
The majority of Cochrane Central Executive staff are located in London, UK; however, a flexible location would be possible for the right candidate.
If you would like to apply for this position, please send a CV along with a supporting statement to recruitment@cochrane.org with "Head of Knowledge Translation" in the subject line.  The supporting statement should indicate why you are applying for the post, and how far you meet the requirements for the post outlined in the job description, using specific examples.  List your experience, achievements, knowledge, personal qualities, and skills which you feel are relevant to the post.
For further information, please download the full job description.
Deadline for applications: 18 February 2018 (12 midnight GMT)
Interviews to be held on: Monday 26 February 2018
1 February 2018