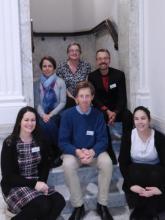 This is part of a series of Cochrane Blog posts about prioritization work by Cochrane Review Groups. You can read more about the project and the full series of blog post on the project page.
This case study is a great example of how undertaking a prioritisation exercise not only helps a Cochrane Group to deliver the reviews our stakeholders want; it also helps to focus precious editorial base resources.
Cochrane Skin Group (CSG) has a very wide scope and this informed their approach to priority setting. With the exercise that began in March 2017, they made a conscious effort to shift from trying to cover all of dermatology to a more focused approach – producing the reviews that are most likely to make a difference in people's lives.  The group were keen to cover unanswered questions in areas where there is a high global burden of diseases. They further refined the scope of the exercise by focusing on delivering high quality reviews that use novel or complex methodologies.
The group started by contacting the entire CSG membership, the Cochrane Child Health and Nursing fields,  along with international professional dermatology societies, guideline development groups, healthcare commissioners and patient representatives – this included the World Health Organization, National Institute for Health and Care Excellence, American Academy of Dermatology, European Academy of Dermatology and Venereology, European Dermatology Foundation, British Skin Foundation, National Eczema Society, L'Association Française de l'Eczéma, National Eczema Association (US and Australia), Nottingham Support Group for Carers of Children With Eczema, Acción Psoriasis, Psoriasis International Network, Psoriasis Association, Psoriasis and Psoriatic Arthritis, Vitiligo Society, Hidradenitis Suppuritiva Trust, Alopecia UK, and Skin Cancer Awareness and the UK Dermatology Clinical Trials mailing list. They asked all of these stakeholders to identify their top five priority questions, to be addressed over the next three years. In parallel, the group reviewed the results of several James Lind Alliance priority setting partnerships (JLA PSP) – acne, cellulitis, eczema, epidermolysis bullosa, hair loss, hidradenitis suppurativa, and vitiligo – and the research priorities identified by national and international guideline groups.
After gathering the title suggestions from the stakeholder survey and the research results from the JLA PSPs and guideline groups, a shortlist was sent to the CSG editors who each rated their top ten questions. The skin disorders with highest burden, identified in the Global Burden of Disease Project, and historic existing or ongoing Cochrane Skin titles were also considered throughout the process and helped to guide shortlisting decisions. CSG editor ratings were combined, and an editorial meeting was held to discuss the results. A list of seven priority titles was created in September 2017. Three titles already had a team of CSG authors in place and the remaining four were opened up to new author teams via a competitive application process.
A key benefit of priority-setting is the way in which it can strengthen relationships with stakeholders. The group sent the protocols of the prioritised titles to policy makers and guideline developers to ensure that the questions raised will be properly addressed in the completed reviews. They presented the results of the exercise to the CSG membership and the CSG-COUSIN research group at their annual CSG meeting in Amsterdam (January 2018). The full details of this priority setting exercise are available on the  Cochrane Skin website.
The group is very pleased with the results of the exercise, which they felt was achievable and affordable, and work on all seven priority titles is now well underway. The editorial base team report a significant shift in the way they plan their workload and interact with authors. They are strongly committed to supporting these priority reviews, to the extent that they will drop other work when a priority title comes in. In turn they expect author teams to meet ambitious deadlines and have tightened up their editorial processes accordingly. There is an obvious potential for this to affect the pace at which other titles progress, but the group is confident that this rationalisation of precious resources is right because it is based on transparent stakeholder engagement, ensures longer term sustainability and maximises their chances of making meaningful impact on health care outcomes and improving lives.
The group is in the process of reviewing their entire current portfolio, checking against the results of the priority exercise to determine which titles they should focus on beyond these 7 priority titles. They plan to carry out a similar exercise every three years and will look at ways to continue to broaden their international reach via different stakeholders.

Ruth Foxlee, Senior Advisor to the Editor in Chief, Cochrane Editorial & Methods Department
Maria Gerardi, Administration Officer, Cochrane Editorial & Methods Department
August 17, 2018