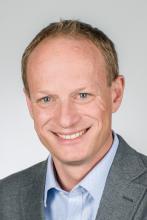 'Cochrane at the WHO' is a blog series that highlights the partnership between Cochrane and the World Health Organization. If you would like to share a story about how your Cochrane Group is working with WHO, please contact Emma Thompson, Advocacy and Partnership Officer.
Here, Joerg Meerpohl, Director of Cochrane Germany and member of the Cochrane-WHO Working Group, talks about his work with WHO and why he enjoys it.
Could you give a quick introduction to yourself and your work within Cochrane?
I am the Director of Cochrane Germany. I first got involved with Cochrane Germany as a researcher in 2007, became Deputy Director in 2011 and moved into the Co-Director role with Gerd Antes in 2015, until he retired in 2018.
Alongside this, I am a member of the Cochrane-WHO Working Group, which meets three or four times a year to discuss and advise on the partnership between Cochrane and WHO. There are connections between Cochrane and WHO at many levels, with a huge amount of work being done. Use of Cochrane evidence is very important to WHO in the development of their guidance.
Can you tell us about your own activities with WHO?    
Since 2011, I have been involved with several WHO groups, mostly through my expertise in guideline development and GRADE methodology. For example, I have contributed to guidelines on HIV, nutrition and vaccine hesitancy.
Through this work, Susan Norris from WHO asked me to provide some training on GRADE methodology to WHO technical staff. Gerald Gartlehner from Cochrane Austria and I then developed a two-day training course, which we have now delivered four or five times. The courses have been well-attended, with 30-35 participants each time and we have had very positive feedback.
For the last few years, Cochrane Switzerland and the University of Lausanne have been leading a 2-week training course on systematic reviews and evidence synthesis for the Human Reproduction Program, the UNDP/UNFPA/UNICEF/WHO/World Bank Special programme of research, development and research training in human reproduction. I have supported this by covering the GRADE/guideline side of things.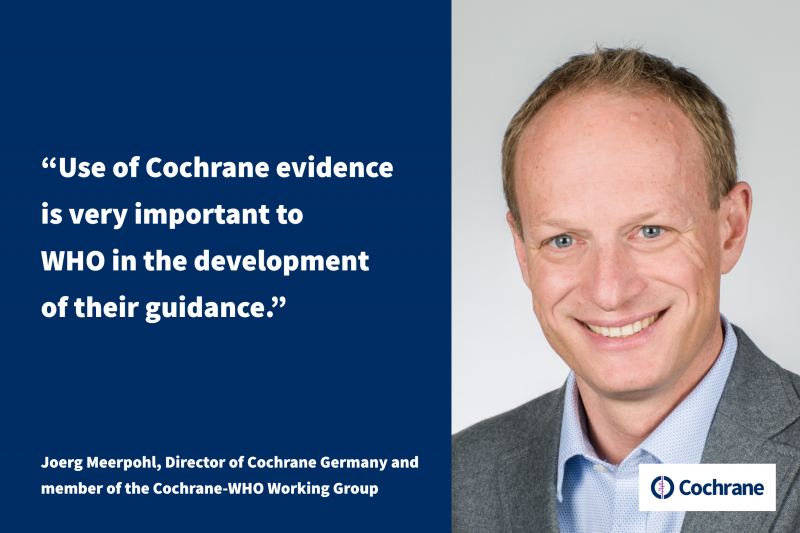 Does Cochrane evidence impact on WHO's work?
Yes, absolutely. As an example, I have been involved with the WHO Nutrition Guidance Expert Advisory Group (NUGAG) for about five years – initially providing external methodological support and, in the last few years, as a formal member. NUGAG focuses on guidance for nutrition and dietary goals, and Cochrane Systematic Reviews have been considered and informed recommendations. This includes several reviews on fat by Lee Hooper from Cochrane Heart, another member of NUGAG.
What advice would you give to members of the Cochrane community interested in getting involved in WHO work?
There are many ways to engage with WHO. Cochrane and WHO are in contact about WHO's upcoming guidelines and where there is a need for more systematic reviews – so one route is to get involved in producing these reviews.
WHO's technical staff often need GRADE and guideline methodology support, so if you have this kind of experience, you can ask to be added to their database.
Working with WHO is great fun. It is, of course, demanding, working with short timelines, and in an international context with a variety of interests. Navigating one's way through meetings can be challenging. I try to always work with at least one WHO group at any time. Of course, I have the advantage of being quite close to Geneva, so it isn't too difficult for me to be active.
I have learned a lot while working with WHO; it has enhanced my personal skills and my ability to interact with a diverse range of people with different backgrounds and skillsets. I also get to work with lots of smart people, who are experts on a variety of topics, which I really enjoy.
15 August 2019