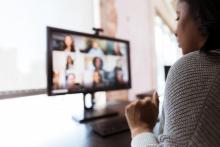 Thanks to everyone who joined us for Cochrane's 2021 Annual General Meeting, a hybrid meeting with most of the 250+ attendees joining virtually, though some met in person at Cochrane's London office. 
All resolutions proposed at the meeting passed, and a record of the votes can be found here. 
A recording of the meeting is available below. 
00:00 Welcome and introduction to the Trustees
06:59 What does Cochrane's Governing Board do? Minutes from prior AGM
10:02 Co-Chairs' Report
25:59 Treasurer's Report
36:15 Apppointment of the Auditors
36:34 Council Report
45:08 Interim Chief Executive Officer Report
59:00 Editor in Chief of the Cochrane Library Report
1:17:28 Members' Questions and Any Other Business
1:30:48 Date of Next Annual General Meeting
All slides from the AGM can be viewed below:
Prior AGM agendas and minutes can be viewed here. If you have any questions following reviewing AGM content, please email agm@cochrane.org.
29 October 2021