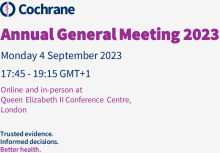 An Annual General Meeting of The Cochrane Collaboration (Cochrane) was held on Monday 4 September 2023 at the QEII Conference Centre in London.
For those who wish to revisit the AGM or missed the event, you can access the meeting agenda, presentations, and view the meeting video here. The minutes will follow.
Members approved the following resolutions at the meeting:
To approve the minutes of the last Annual General Meeting, held on 17 October 2022.
YES: 189 NO: 0 ABSTAIN: 28
To receive and note the Trustees' Report and Financial Statements for the year ended 31 December 2022.
YES: 192 NO: 4 ABSTAIN: 21
To appoint Price Bailey as auditor until the Annual General Meeting in 2024
YES: 187 NO: 0 ABSTAIN: 30
The voting results can be found on the AGM website.
Below, the video recording of the AGM:
28 September 2023