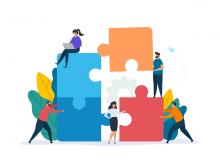 Dear Cochrane friends and colleagues,
With less than a week to go until Cochrane's 2021 Governance Meetings, here's some important information. 
We are delighted to have more than 320 registered for the online events -  09:00 – 12:00 (UTC+01:00) on 22 June (check time in your time zone), repeated 17:00 – 20:00 (UTC+01:00) on 24 June (check time in your time zone). There's still time to register, please do so today!
The Governance Meetings are an annual opportunity for Cochrane's leadership teams, members, and supporters to come together – you can view the latest version of the programme here. You will also find updated information on the three 'breakout sessions' covering key strategic priorities.  
If you are using the Hopin virtual platform for the first time, please find useful navigation information within this short video - it shows you how to direct message with colleagues, join the Community 'speed-networking' sessions, and interact with the live polls and Question/Answer session taking place during the first, live Plenary. We will also explain the agenda and how you can interact as part of all sessions in our opening remarks. 
In addition, here are a few helpful hints when using Hopin: 
You are likely to experience connection problems unless you use Chrome or Firefox browsers.
You can log in and edit your profile at any point prior to the live event. 
Each event will be open 30 mins before the live Plenary session begins so that you can familiarize yourself with the platform, network with colleagues and friends, as well as explore other virtual content.
For those registered, you will receive email notifications with more technical information on how to use Hopin from the platform directly on Friday 17th June and 24 hours before each event.
There are also digital Project Boards which promote or highlight a specific Group or team's work. If you would like to more information on how to promote your own Cochrane project, please contact rdevany@cochrane.org.
In preparation for these meetings, our Groups Executives met with their respective constituents over the last month to respond to a series of questions relating to current challenges, opportunities, and their views on how we, as the global Cochrane Community, may address these strategic issues. These responses were submitted to the Council who have collated this report. 
We wanted to thank you all for your outstanding contributions to this report, and look forward to productive discussions next week as we continue to shape Cochrane's organizational priorities during these challenging times.
With our best wishes, 
Tracey Howe & Catherine Marshall
Governing Board Co-Chairs
Judith Brodie
Interim Chief Executive Officer
Karla Soares-Weiser
Editor in Chief
June 17, 2021