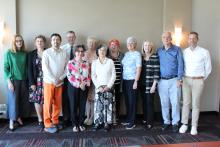 Dear Community colleagues and members,
Despite the cancellation of this year's Colloquium, Cochrane's Governing Board was able to meet in Santiago, Chile, as planned. At the end of the meeting, we extended our grateful thanks to Gabriel Rada and the Local Organizing Team at Cochrane Chile for their outstanding work in preparing for the 2019 Santiago Colloquium. Read our full message here: https://www.cochrane.org/news/cochrane-santiago-message-cochrane-board
We also wish to give special thanks to Cochrane's Senior Management Team and all their colleagues from the Central Executive Team.  They have worked tirelessly over the last few days, liaising with the wonderful local organizers, rescheduling meetings, making sure people were safe and helping them get home safely.  We and the Board are extremely grateful.
Following our time together in Santiago, here is a summary of our key decisions over the last couple of days. If you have any questions, please feel free to contact one of us at support@Cochrane.org
We are pleased to report that the Board approved:
The strategic direction of Cochrane's Editorial & Methods Department. Please refer to the Open Access agenda papers for more information;
Cochrane's Multi-language Strategy 2020-2022, including the investment for upscaled multi-language and Knowledge Translation implementation; in addition, this mandates the Central Executive Team to develop a wider implementation plan to integrate multilingualism and cultural diversity as part of a new organizational strategy post 2020;
Three brand new organizational policies: More information about these policies and how you can use them to support you will be made available in the coming weeks.

Principles of Collaboration: Working Together for Cochrane (Code of Conduct) developed by Cochrane's Council;
Complaints Resolution Procedure;
Organizational Accountabilities for Cochrane.

The recommendations and implementation plan for the revised Conflict of Interest policy for the Cochrane Library, (more information to follow).
Dr. David Tovey be awarded the title "Emeritus Editor-in-Chief." This title is given in special recognition of David's distinguished service as Cochrane's first Editor-in-Chief, 2009-2019.
The agenda for this meeting and open access papers are available and the full Minutes will be available soon.
The next Governing Board face-to-face meeting will be during Cochrane's Governance Meetings in Manchester, UK, in March 2020. 
With our best wishes,
Catherine Marshall and Martin Burton
Cochrane Co-Chairs
23 October 2019