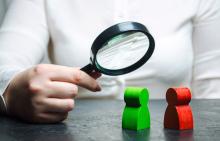 The revised policy, which we plan to implement on October 14, 2020, includes stricter rules for financial interests and the consideration of non-financial interests. 
Cochrane is proud to release its revised Conflict of Interest policy for Cochrane Library Content. The policy was created with the support of a project board made up of key stakeholders and conflict of interest experts from within and outside Cochrane, following a rigorous policy revision process that began in May 2018. It represents an important step in promoting the integrity of Cochrane Library content.
Some key features of the revised and strengthened policy are: 
Authors without conflicts of interest must make up at least two-thirds of the author team.
Last as well as first authors must be entirely free of conflicts of interest.
Authors of clinical studies that are funded by industry and are relevant to the topic of a review may not be the first or last author of a Cochrane Review. 
Non-financial interests must be closely considered and declared by all Cochrane authors, but will not prevent people from creating Cochrane Library content. 
We are planning for the revised policy to come into effect on October 14, 2020. While implementation was originally planned for July, the Governing Board and Project Team has decided to delay policy launch until October. This will allow additional time for us to optimize our editorial systems to better support application of the new policy, as well as allow for work disruptions that have occurred due to the COVID-19 pandemic and Cochrane's response to it. All Cochrane Review titles registered after policy implementation must follow the revised policy, and the same is true for updates that begin after implementation.
We are working closely with our technology teams to ensure that our editorial systems are optimized to support implementation and uptake of the revised policy. Monthly updates on this progress and the implementation date will be provided on the Conflict of Interest policy page. 
Before the policy comes into effect, there will be opportunities for Cochrane Review Group (CRG) editorial team members, authors and other Cochrane members to learn about the policy and how it may affect their Cochrane activities. In addition, a Conflict of Interest Policy Implementation Team, led by Ruth Foxlee, is in place to support policy implementation. 
A new conflict of interest policy page  has been set up at conflictofinterest.cochrane.org to provide access to the both the revised (2020) and old (2014) policies. In addition, the following opportunities to learn more are available. 
An online learning module will be developed, and other training resources will be available on the page as they are produced. 
A community webinar was held on June 10, and training videos are available here. 
Additional virtual training sessions will be scheduled going forward, given the cancellation of face-to-face meetings due to COVID-19.
Karla Soares-Weiser, Editor in Chief of the Cochrane Library, says: "With this Conflict of Interest policy, Cochrane is showing its commitment to independence, transparency, and integrity. This policy will minimize any impact that conflicts of interest could have on Cochrane systematic reviews. We are proud of this policy and its rigor, and know it reaffirms Cochrane's role as an independent leader in evidence synthesis publishing."
Catherine Marshall, co-chair of the Cochrane Governing Board says: "Cochrane holds a reputation as a trusted source of healthcare evidence, and with this comes the responsibility to ensure our policy on conflict of interests is robust. This updated policy strengthens and clarifies our expectations but also recognises the need for pragmatism in its implementation."
Visit Cochrane's Conflict of Interest page to read the revised policy.  
Read Karla Soares-Weiser's BMJ Opinion piece about this policy.
April 14, 2020