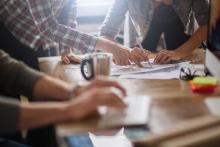 In order to be relevant to the needs of users, Cochrane evidence needs to respond to national, regional, and global health priorities. This page provides a round-up of current priority setting activities submitted by Cochrane Groups - updated throughout the month. See the 'Priority Setting' pages of Cochrane Training for additional information on priority setting; including sample documents, FAQs, and case studies.

Title of Priority Setting: Neuromuscular priority setting
General information: This new priority setting exercise will identify 20 to 30 reviews to be the main focus of our work over the next three years. The process will help us to identify priorities for updating published reviews and completing ongoing reviews, as well as identifying any gaps where new reviews are needed.
Target Audience: At this stage, our Prioritisation Steering Group is gathering information about current review questions and drafting its priority setting survey. We would like to invite two or three interested stakeholders to pilot a draft version of the survey.
End date: We anticipate that our priority setting survey will be open this summer, and so we would seek to pilot the draft survey in July/August 2019.
Further information: Priority setting plan on the Cochrane Neuromuscular Group website 
Cochrane Group: PaPaS

Title of Priority Setting: PaPaS priority setting project 2019
General information: Our review group has a broad scope and we produce reviews on acute and chronic pain, headache and migraine, and palliative and supportive care. We are embarking on a prioritisation exercise to evaluate the scope, coverage, and potential gaps in our portfolio to meet the objectives of the new MOSS Network Strategic Plan and the ongoing aims of Cochrane's Strategy to 2020. We are following the mandatory standards detailed in the Knowledge Translation guidance.
Target Audience: Once we have identified our priority topics, we will circulate surveys with relevant stakeholders (e.g. organisations, charities, patient groups, and any other relevant individuals or groups) to gather their feedback on the conditions, interventions and populations we need to focus on over the next five years.
End date: TBD
Further information: Find out more about our prioritisation plans for 2019 and beyond.
If you would like to add your prioritization project, please  provide the following information to mumoquit@cochrane.org:
Cochrane Group:
URL of Group website:
Twitter Handle:
Title of Priority Setting:
General information: 1-2 sentences explaining what the scope of the priority setting is, any specific methods and/or stakeholders which will be involved.
Target Audience: 1-2 sentences explaining the target audience of your current stage in your priority setting. e.g. general public, health professionals. 
Special requests: Optional; Is there anything (with approximate dates) that the Cochrane Central Executive or other Cochrane Groups/Cochrane members could help with? e.g. Disseminating surveys, linking up with stakeholders etc.
End date: What is the date after which input from other Cochrane Groups would be unhelpful? When should your information be removed from this page?
Further information: e.g. Link to priority setting plan on Group website, link to survey.
July 8, 2019