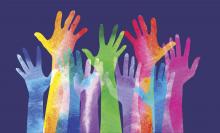 Being global and diverse has always been an important part of Cochrane. Currently, our global community of nearly 100,000 members and supporters come from over 130 countries worldwide. Our Principles highlight the importance of diversity and inclusion within the organization through the objectives Enabling Wide Participation, Promoting Access and Striving for Relevance. These principles were also picked up in Cochrane's Strategy to 2020 with a stated objective to 'become a truly global organization by establishing a Cochrane organizational presence in all regions, building capacity in low- and middle-income countries; promoting gender, linguistic and geographic diversity; and enabling generational change' (Goal 4, Global and Diverse).
Cochrane is undertaking a listening and learning exercise to better understand diversity and inclusion in Cochrane and particularly to better understand how people experience engaging with Cochrane from the perspective of diversity and inclusivity. This will require a consultation exercise followed by analysis and ultimately the development of a report with recommendations for action. 
We would like to work with a team from the Cochrane Community to undertake this consultation. This team will bring qualitative research expertise to designing, running and analysing the consultation. 
If you have those skills, have a passion for diversity and would like to be part of this initiative, then please read the attached request for proposals where you will find full details of what we need.
The selected team will have a significant role in the design of the initiative, so some elements of the request for proposals are not specific; this is deliberate to allow for this flexibility. 
If you are interested in applying to take on this work then please contact Chris Champion cchampion@cochrane.org to express interest in the work by 12pm GMT on 15th December 2020. Full proposals will then be invited to be completed by 22nd January
Revised 4th December: 15th December deadline is now for expression of interest only, and the full proposals will not be required until January.
December 4, 2020