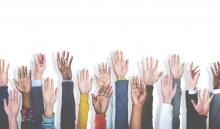 Voting is now closed for the current Governing Board election.
Visit elections.cochrane.org to view the candidates standing, read their Candidate Statements, and cast your votes by 25 November. All Cochrane Members are entitled to vote in this election. Membership is defined as having accepted the Terms & Conditions of Cochrane Membership. You can check your membership status in your Cochrane Account.
For this election, the Board is especially seeking members who have one or more of the following areas of expertise, in order to complement those of existing Board members:
•    Publishing and Open Access
•    Fundraising or business development
•    Digital product development
•    Financial management
•    Advocacy
•    Science communications or public relations
•    Making organizations more diverse and equitable
These skills can come from any area of candidates' professional or personal lives. We also want to increase diversity on the Board, so for this election, one of the five places available is restricted to a Cochrane Member who is 30 years old or younger on the date the election results are announced. 
You should vote for your five preferred candidates regardless of their age. The five candidates with the highest number of votes will be declared elected, except that if none of the top five candidates are 30 years old or under on 29 November 2021, the fifth position will be awarded to the candidate who has the highest number of votes from those candidates who are 30 years old or younger.
For any questions, contact Cochrane Support. 
3 November 2021