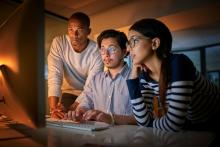 Dear Cochrane Community colleagues,
I am delighted to inform you that the redesigned and enhanced Cochrane Library will launch on Tuesday, 7 August 2018.
Our colleagues at Wiley are communicating this news direct to customers separately and have also contacted users who have saved searches.
To ensure the transition process to the new publishing platform runs smoothly, we strongly recommend not using the saved search function from 00:01 GMT on Monday 6th August 2018 until 23:59 GMT on Tuesday 7th August.  Changes saved during this period may not be transferred to the new site. During this period all other search function in the Cochrane Library will remain available. All previously saved searches will be transferred onto the new search platform with no action required on the part of users and customers.
All aspects of the Cochrane Library have been redesigned to improve the Cochrane Library user experience including:
Improved article design for Cochrane Reviews, CENTRAL records, and all content.
Search expanded across all content types, including Cochrane Reviews and Protocols, CENTRAL, Editorials, Special Collections, Cochrane Clinical Answers, and other systematic reviews from Epistemonikos, via a new federated search feature.
A new Spanish language portal and discoverability of translated content in multiple languages via basic search.
Cochrane Clinical Answers now fully integrated into the Cochrane Library.
Improved search results display, including new filters for all content, and multiple record export options.
Advanced search tabs better integrated, and MeSH search feature improved.
Linking CENTRAL records to Cochrane Reviews.
Easy navigation from Cochrane Reviews to related podcasts, Editorials, and Cochrane Clinical Answers.
We will announce full details of launch to Cochrane Members, users, and stakeholders on Wednesday 8th August via external communications together with Wiley and our technology platform provider, HighWire.
If you have any queries or concerns about anything else, please contact Wiley customer support team (cs-cochrane@wiley.com).
I am delighted to share this exciting news with you today. This complex project has been all about improving user experience; we have ambitious plans for future development of the Cochrane Library and these can only be delivered by this move to a new publishing platform.
With best wishes,
David Tovey
Editor in Chief
August 1, 2018