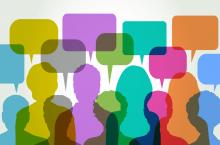 Sarah Chapman and Selena Ryan-Vig, Knowledge Brokers at Cochrane UK, share interesting lessons from a qualitative evaluation project which looked at what could be learnt from blog comments and what could make the blogs more helpful.
Evidently Cochrane is Cochrane UK's blog site, which aims to make Cochrane evidence really accessible, and to encourage discussion about it, through blogs which usually feature new or updated Cochrane Reviews on health topics.
What do readers get from Evidently Cochrane blogs and how could they be made more useful? To address these questions, we worked with independent qualitative researcher Fran Toye to carry out a qualitative study, using the comments from five blogs as our data (463 comments, almost 59,000 words). The bloggers also contributed to the analysis.
The blogs focus on menopause, frozen shoulder, stillbirth and subsequent pregnancy, care after major stroke, and tubal flushing to increase the chance of conceiving. Four included the blogger's relevant personal experience and one included data from in-depth interviews with patients and family members. 
Despite the variety of topics, it is clear that people commenting on the different blogs have much in common. Our findings indicate three key uses of the blogs: to provide a space where people negotiate ambiguity and uncertainty; as a testament of their suffering; and to fill a need for solidarity through shared suffering. People in the comments share the agony and ambiguity of making and living with difficult decisions. They write about their experiences, using the blog as a space where they could safely voice their suffering, and it seems that this gave them some relief. They describe heartbreak, despair and desperation in the face of physical and emotional suffering. They also often expressed that 'we are in the same boat, sharing our suffering', describing the value of finding community.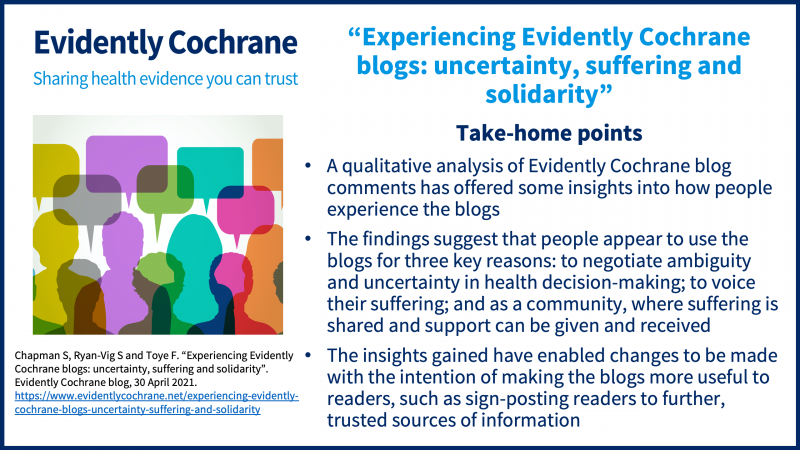 As a result of what we've learned, we've made some changes, hoping to make the blogs more useful. We have revised our guide to blogging for Evidently Cochrane, asking bloggers to signpost readers to sources of information and support, and to make suggestions that could help readers think about their treatment options and discuss them with their healthcare providers. 
We have also reflected on our policy for moderating online comments. We remain committed to protecting bloggers and readers from offensive comments. At the same time, this work has shown the value of allowing readers to respond freely to each others' shared experiences. At times, this may mean that readers will recommend treatments that are not supported by evidence. We have now revised the disclaimer in the blogs to clarify that we do not fact check comments or endorse treatments mentioned by readers.
28 April 2021