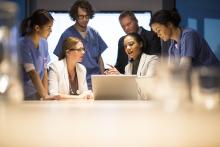 Cochrane has always envisaged a world where Cochrane Reviews would be updated as soon as new relevant evidence became available. Now, with a new approach to review production and clever application of technology, Cochrane is trialling a way to do just that.
Anneliese Synnot of Project Transform's living systematic review (LSR) team, in partnership with pilot LSR teams and editorial groups, the Cochrane Editorial Unit and the LSR Network, has been working away for some time on the methods and processes needed for Cochrane to pilot LSRs. We caught up with her on the eve of an exciting milestone for the LSR project.
'I'm very proud and more than a little bit excited to see the publication of Cochrane's first living systematic reviews' says Annie. 'We now have two review teams, led by Elie Akl and Lara Kahale, at the American University of Beirut, Lebanon (with Cochrane Gynaecological, Neuro-Oncology and Orphan Cancers) and Geoffrey Spurling, at University of Queensland, Australia (with Cochrane Acute Respiratory Infections) who have transitioned their Cochrane Reviews into living mode.'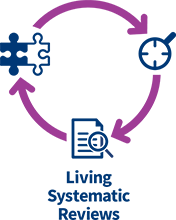 Akl EA, Kahale LA, Hakoum MB, Matar CF, Sperati F, Barba M, Yosuico VED, Terrenato I, Synnot A, Schünemann H

.

Parenteral anticoagulation in ambulatory patients with cancer

.

Cochrane Database of Systematic Reviews

2017

Spurling GKP, Del Mar CB, Dooley L, Foxlee R, Farley R. Delayed antibiotics for respiratory infections. Cochrane Database of Systematic Reviews 2017
'A further LSR team, led by Rebecca Hodder and Luke Wolfenden, of University of Newcastle and Hunter New England Population Health in Australia, is working with the Cochrane Heart Group. They are also very close to transitioning their Cochrane review, Interventions for increasing fruit and vegetable consumption in children aged 5 years and under, into living mode. You can expect to see this published on the Cochrane Library very soon. All in all, we hope to have 3 LSRs published by the end of the year, with additional LSRs being prepared by the Cochrane Musculoskeletal Group.'
'I'd like to extend a big thanks to the ever-growing community of systematic review, guideline and publication experts who have worked hard over the past year to achieve this exciting milestone for Cochrane', Annie says. 'I'd particularly like to acknowledge the contribution of Elie Akl, Lara Kahale and Gail Quinn, who have been working with us on the LSR methods and processes for over 12 months prior to transitioning their review'.
So what does this mean in practical terms? The above review teams have published a conventional update of an existing Cochrane Review on the Cochrane Library that will be now be maintained in living mode. They've outlined their plans for how they will do this in the methods section of the update. The teams will now be undertaking monthly searches to identify any new evidence relevant to their review, and communicating this to readers on the Cochrane Library.
Project Transform's LSR team will be involved in a number of activities at the upcoming Global Evidence Summit, so if you are going to be in Cape Town, make sure you have the LSR events on your schedule! You can also find more information about the LSR work here, or email us at lsr@cochrane.org with your comments, questions, and feedback.
Support for the Cochrane Review 'Interventions for increasing fruit and vegetable consumption in children aged five years and under' was provided by the Robert Wood Johnson Foundation. The views expressed here do not necessarily reflect the views of the Foundation.

Support for Project Transform is provided by Cochrane and the National Health and Medical Research Council of Australia (APP1114605). The contents of the published material are solely the responsibility of the Administering Institution, a Participating Institution or individual authors and do not reflect the views of the NHMRC.
8 September 2017