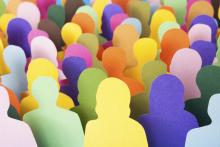 Five good reasons to get involved with Cochrane Crowd, even if you're already a health evidence aficionado - and how to help spread the word
You've probably heard of Cochrane Crowd, because we've certainly announced our presence! But in case you haven't, we're Cochrane's new citizen science platform. Our global community of volunteers helps classify the research needed to support evidence-based health care. The community reviews abstracts to identify randomized controlled trials, which are then fed into Cochrane's Central Register of Controlled Trials.

You might be wondering how the existing Cochrane community fits into this initiative. If you're already working on Cochrane Reviews, why would you want to contribute? And are there other ways to support Crowd?
Get involved yourself
Here are five good reasons to get involved, even if you're already an experienced health evidence aficionado:
We make it easy for you. You can contribute as much or as little as you want. You can do it on your commute or between meetings. You can do it on your phone or tablet or laptop or PC. You can do it for five minutes or fifty, weekly or monthly. Or just on special occasions, like Cochrane Crowd Screening Challenges.
It's a flow activity. You don't have to think about anything other than the abstract. Limited responsibility. Many actually find it relaxing. True story!
It's fun, and we're not the only ones who think so. We genuinely have a great time at Cochrane Crowd. We're an inclusive, welcoming community and we like to connect with our members and have a laugh.
You can brush up on the latest research in your field. You can choose to screen records on a particular topic of interest, like dementia or asthma: once logged in, go to Settings and enter some keywords.
It's just a great project all 'round. And you want to be a part of it, trust us! We're all about innovation, we're constantly expanding the capabilities of the platform, and we're a rapidly growing, collaborative, global community. What's not to be excited about?

Head over to Cochrane Crowd to sign up and start screening!

Help spread the word
Another way you can be involved is to help spread the word about Cochrane Crowd. Here are some ideas:
Send out Cochrane Crowd infographics to friends, family, colleagues, or students you may be teaching.
Keep an eye on our Twitter feed @cochrane_crowd and retweet us when you can.
We regularly write blog posts and news pieces for .org and Cochrane Community, and we'd love for you to share them as they're published, so keep an eye out.
Want to find out more?
Email crowd@cochrane.org for further information.
28 December 2017