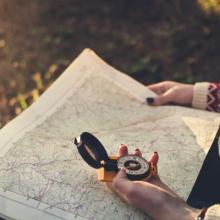 Nancy Owens is Senior Communications Manager with Cochrane's Central Executive team, and Rome 1999 was her first Cochrane organizational conference. Cape Town 2017 is her fifteenth!
Is the Global Evidence Summit (GES) your first big conference? Perhaps you're excited and a bit nervous, maybe not sure exactly what to expect? Fear not! We've canvassed the Cochrane Central Executive team's conference veterans, and put together a list of tips and ideas to help you navigate four days (or more!) of intensive interaction with your health, sanity, and collaborative enthusiasm (mostly) intact.
Taking the plunge – sessions and colleagues
Get involved – if you're learning about the organizations that are hosting GES, go along to some meetings, even if you're not sure what you might have to contribute. Many small groups from the five partner organizations co-hosting GES have open meetings at the conference – a great opportunity to hear about current projects and issues, meet new people, and decide what you might be interested in pursuing further.
 
Start slow - go to the introductory-level workshops rather than anything marked advanced. Even if this is covering ground you think you're familiar with, you'll come away with something new.
 
Drill down - rather than try and get to every session you really want to, try sitting through all the talks in one session that ties in with a general interest you have. You won't lose time rushing between rooms and you'll learn things you wouldn't otherwise have thought you wanted to know more about.
 
Introduce yourself – this conference is a great chance to meet people you've read about, or who might be doing something interesting in your field. And they want to meet you, too! Don't be shy about introducing yourself and asking questions when you sit next to people in oral sessions, workshops, and breaks. If you introduce yourself, you might also accidentally rescue the people you're talking to, who have forgotten each other's names and were too polite to ask.
 
Beware the distant elephant! – it's very easy to get swept up in the excitement of discussing ideas and possible collaborations with colleagues, but try to take a deep breath and think about what might be involved and how it might fit in when you get back to your own desk and regular work. In management training, future projects like this are referred to as 'distant elephants' – that is, they look small and manageable when they are off in the distance, but can loom larger and more daunting the closer they get!
Logistics – navigating the day
Orient yourself - make sure you have your timetable and map (either electronic or on paper) to hand – otherwise it's always a last-minute stress figuring out where and when you're supposed to be places!
 
Plan ahead - give yourself enough time to get from one session to the next. Ideally leave a few extra minutes for an impromptu chat when you run into a friend or colleague en route!
 
Pack snacks – the meetings start early, your hotel breakfast doesn't open until 8am, and there's no shop in sight. Or maybe you're too busy talking and forget to eat during the breaks. Make sure you have some emergency snacks packed in your bag to keep you going through the day.
 
Make the most of breaks - they are when you are most likely to see old friends and make new ones. Lack of formality helps to break down some of the barriers and ease conversation. It's a perfect opportunity to talk to people you recognize as email addresses.
 
Catch up outside business meetings - near enough everyone you will need to know over the course of your time in evidence research will be there and many will become good friends. Set aside time to go out for dinner with them. 
Personal well-being – maintaining your perspective
Schedule down time - plan your social diary to keep some time back for yourself. It's tempting to use the evenings to see who's in the bar, but you can avoid fatigue by going for a run/swim, or just going to bed early and reading.
 
Pace yourself - don't eat and drink everything on offer, otherwise by the end of the week you feel terrible!
 
It's a marathon - so try to get enough rest and (non-alcoholic) fluids!
 
Buddy up – it can get lonely if you're always rushing from one thing to the next, alone. Finding a 'conference buddy' and keeping tabs on each other helps.
 
Check back with base – after a few 14-hour days it can start to feel as though you're in a different and very intense world – Planet GES! It can help to schedule time for a Skype call with a friend, family member, or workmate who's not at the conference, and re-connect with your daily life.
Have you got tips of your own to share? Send an email or a tweet and we'll add it to the list!
Thanks to Lucie Binder, Miranda Cumpston, Toby Lasserson, and Chris Mavergames for their contributions to this post.
Nancy Owens (nowens@cochrane.org, @nancyjowens)
September 6, 2017