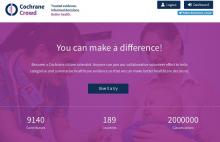 Cochrane Crowd, Cochrane's citizen science platform, reached 2 million individual classifications on Tuesday 15th of May at 5.20pm UTC + 1, one day after the platform's 2nd birthday!
In the lead up to the milestone Crowd ran the #Crowd2million campaign and around 100 people got involved, sharing screenshots and supporting this community to reach our goal. Read on for the campaign wrap up, prize winner announcements and news of an unexpected campaign outcome.
Don't know about Cochrane Crowd? Before reading on, you might like to watch this 2-minute introduction or register for our next webinar, Monday 11 June 4-5pm PDT.
This community does it again. Seriously, is anyone surprised?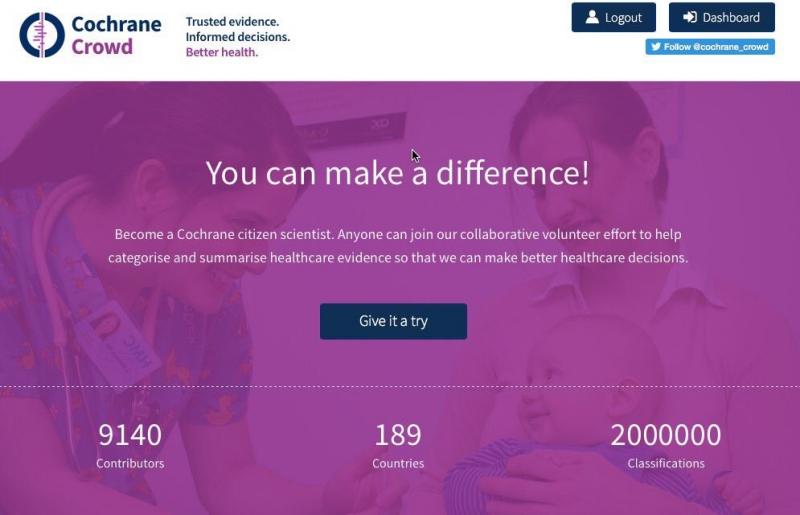 We launched the #Crowd2million #ShowUsYourScreen campaign on the 3rd of May and just 12 days later we cracked 2 million!
How many animals were involved? What a question to ask. Well, if Twitter is anything to go by, at least two cats and one hare. Click the image below for the story of #Crowd2million, from the announcement, through to airport departure screening, the aforementioned cats and hare, Anna's jitters in the final countdown, to the big moment and beyond.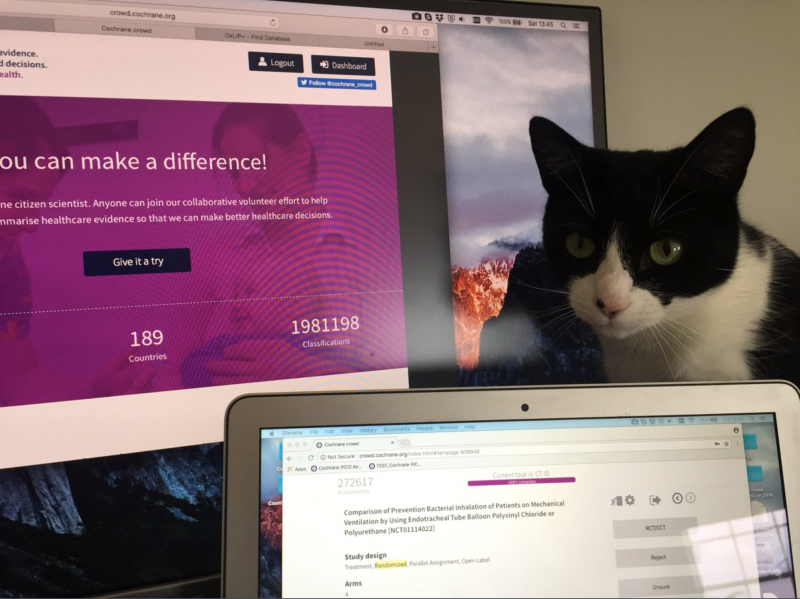 Crowd 2 million prize winners
Congratulations to the ten #ShowUsYourScreen-ers who won prizes for capturing screenshots closest to 2 million and sharing them over Twitter. They are Paul Manson, Lara Killian, Danial Sayyad, Riccardo Guarise, Richard James, Rachel Playforth, Yudi Hardianto, Hebatullah Abdulazeem, Cindy Beverly and Patricia Dwyer-Hallquist. Signed copies of Iain Chalmers' book Testing Treatments are winging their way to prize winners as I type.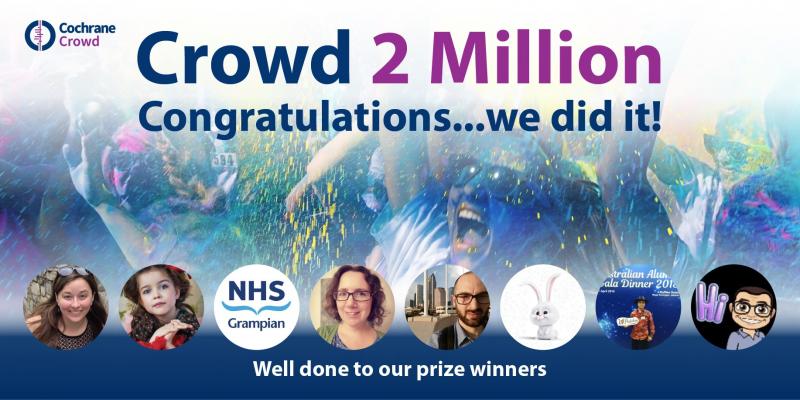 Thank you to these ten superstars, and to everyone who joined us for #Crowd2million #ShowUsYourScreen!
An unexpected outcome of Crowd 2 million
For the last few months Cochrane Crowd has been steadily working its way through a hefty backlog of ClinicalTrials.gov records. ClinicalTrials.gov is the world's largest trial registry and as such is a rich source of ongoing (and completed but not published) randomised trials. There were about 100,000 trial registry records to assess, and as we crossed the 2 million classifications mark, this backlog was finally cleared resulting in more than 64,000 trials having been identified by the Crowd. Amazing work by an amazing community!
Support for Project Transform was provided by Cochrane and the National Health and Medical Research Council of Australia (APP1114605). The contents of the published material are solely the responsibility of the Administering Institution, a Participating Institution or individual authors and do not reflect the views of the NHMRC.
5 June 2018