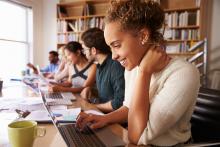 Cochrane Training is pleased to announce that we have re-launched training.cochrane.org with a new design – making the learning resources you need easier to find and use.
The redesigned site gives learners a clearer interface to access diverse learning opportunities. All resources are available through the search bar, as well as through our curated collections built around themes or topics. For example, new authors can check out our 'Review author starter kit' or those with an interest in GRADE approach now have access to a whole host of learning material gathered in one place.
The redesign also highlights the numerous different ways that you can learn with Cochrane -  online courses, brief individual learning modules, webinars, or searching our database of upcoming workshops and events.
You'll also be able to find out about latest updates, upcoming learning events, and our newest resources straight from the website home page through our Training news and updates.
Most resources are available free of charge to everyone, and if you are a Cochrane author, trainer or group staff member then everything is available free of charge.
The Cochrane Training website is maintained by Membership, Learning and Support Services of the Cochrane Central Executive. We hope you take a few minutes to have a look around our new website at http://training.cochrane.org. The website will continue to evolve over the coming months and your feedback is gratefully received at training@cochrane.org.
June 7, 2018