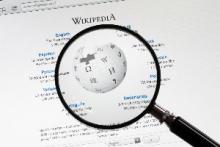 Jennifer Dawson, PhD has worked with Cochrane as the Wikipedian in Residence since 2016. Her role includes maintaining and building further relations with Wikipedia, connecting new editors to the Wikipedia community, and supporting requests for engagement in Wikipedia work from the Cochrane community. Here she shares how Wikipedia works, what challenges exist...and how you can get involved too! 
Wikipedia for health information
English Wikipedia includes over 38,000 articles related to human health that receive over 2 billion page views each year from around the world. Articles on Wikipedia vary widely in page views and in quality. The majority of errors on Wikipedia have been found to be errors in omission, however, misleading or inaccurate medical content can be easily found.  
Wikipedia articles are created by volunteers, many of whom have registered Wikipedia accounts. Wikipedia volunteers include individuals interested in a particular subject including people with lived experience, health care professionals, students, and other volunteers. Volunteers choose to be anonymous or disclose their identities.  In order to ensure that reliable content is added to articles, any material added that pertains to human health requires a citation and that citation must follow Wikiproject Medicine's Guideline for Reliable Sources (WP:MEDRS). For academic medical writers who are used to writing for peer-reviewed medical journals, following this guideline can be an adjustment that can take some time and practice. Rather than cite the strongest or latest primary research study, The WP:MEDRS guideline requires that all evidence added to Wikipedia (even background information on a disease) be first summarized and reviewed by a secondary source, preferably a strong secondary source such as a systematic review or clinical practice guidelines. Expert knowledge or opinion that is not backed by a secondary source is not permitted on Wikipedia. Wikipedia articles are essentially a summary of high-quality secondary sources and are not mini-reviews of direct primary research studies.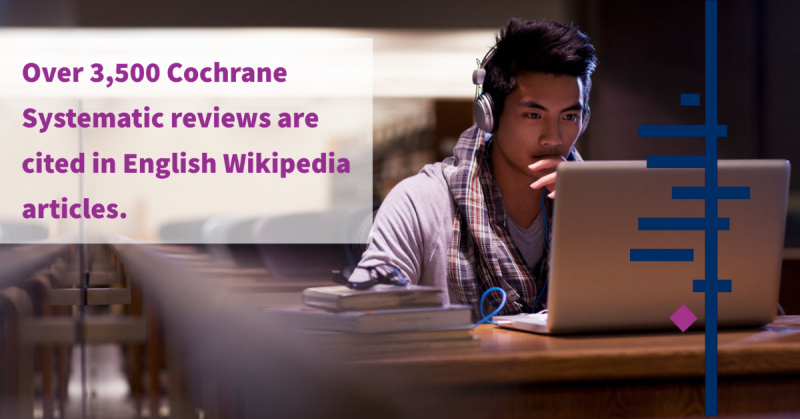 How can Cochrane help improve what people are accessing on the internet?
Presently over 3,500 Cochrane Systematic reviews are cited in English Wikipedia articles. Evidence shared in the background and results section of Cochrane Reviews can be considered to fill an evidence gap or expand an article. Not all Cochrane Reviews are appropriate for Wikipedia and many require that the Wikipedia Editor first expand the present article using other high quality secondary sources before.
What impact does this work have?
Directing people to high quality evidence based sources on the internet is a challenge. Millions of people are accessing health information via Wikipedia each year, but at least we can improve what they are accessing! Examples of top viewed pages on Wikipedia:
December 8, 2021 Wikipedia daily and monthly page views
| | | |
| --- | --- | --- |
| Page title | Monthly views | Daily average |
| | | 22,585 |
| | | 21,167 |
| | | 12,735 |
| | | 9,814 |
| | | 9,510 |
| | | 9,279 |
| | | 9,268 |
| | | 8,898 |
| | | 8,552 |
| | | 7,626 |
| | | 7,559 |
| | | 7,257 |
| | | 6,367 |
| | | 6,293 |

How can I get involved?
Editing Wikipedia is fairly straight forward to learn. New editors are encouraged to start small. Finding a typo in an article and correcting it is a great way to get started. Expanding the background information in an article with paraphrased evidence shared in a high-quality text book or the background section of a systematic review is another great way to get started.
Check out the Cochrane-Wikipedia Project Page for more information on how to edit and to find Cochrane reviews that may be helpful to improve the present content on Wikipedia.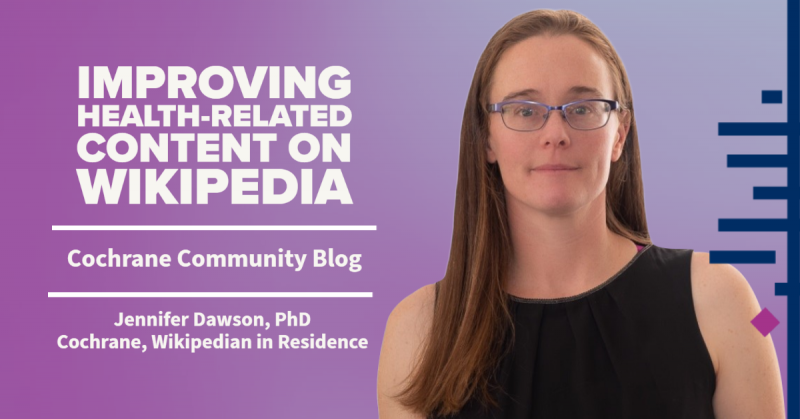 Jennifer can be found on Wikipedia at: JenOttawa and by email at jdawson@cochrane.org. Please visit the Cochrane-Wikipedia Project Page for more information.
20 December 2021