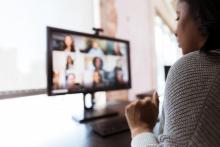 Dear Cochrane friends and colleauges,
You are invited to attend Cochrane's 2021 Annual General Meeting.
As part of its legal constitution as a charity, Cochrane holds a public Annual General Meeting (AGM) once a year. The AGM provides an opportunity for Cochrane's Trustees - its Governing Board - and senior officers to tell you about the management, finances, and strategic priorities of the organization. You can ask questions on these topics, and you can vote on certain aspects ("Resolutions") concerning the management of the charity.
The 2021 AGM will take place online and in-person* on:
Wednesday 27th October 
09:00-10:30 AM GMT+1 (British Summer Time) 
Check what time this is where you live. 
The Resolutions being put to the vote at the AGM are set out below for ease of reference. All Cochrane members as defined by the Membership Terms & Conditions are entitled to vote on AGM Resolutions. Voting is now officially open and will remain open until the end of the AGM on 27 October 2021. Results will be announced after the meeting.
Please make sure you register online ahead of the meeting and cast your votes on the Resolutions on agm.cochrane.org. You are entitled to vote even if you are not attending the meeting, but we do encourage you to attend.
With very best wishes,
Tracey Howe & Catherine Marshall
Governing Board Co-Chairs
Judith Brodie
Interim Chief Executive Officer
Karla Soares-Weiser
Editor in Chief
 
Proposed Resolutions:
To approve the Minutes from the last Annual General Meeting, held on 16th December 2020
To receive and note the Trustees' Report and Financial Statements for the year ended 31st December 2020
To note the re-appointment of Sayer Vincent as auditors until the conclusion of the next Annual General Meeting
* Cochrane's Articles of Association allow the charity to hold a hybrid in-person and online Annual General Meeting. Due to current travel and meeting restrictions resulting from the COVID-19 pandemic, we invite participants to attend online. There are a very limited number of in-person attendees allowed at the charity's registered office at St Albans House in London, United Kingdom, and these spaces have already been allocated. The Trustees are satisfied that this meeting has been set up to allow full participation online.
October 7, 2021