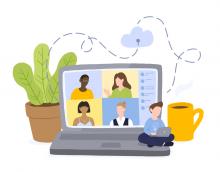 Each month, Cochrane's Editor in Chief hosts an interactive webinar for Cochrane members and supporters. It is an opportunity to hear more about Cochrane's Editorial & Methods Department's (EMD) strategic plans and their implementation by senior editorial staff, as well as learn about work being done by Cochrane Groups from around the world. These webinars are recorded to share with those who are not able to attend.
The May 2021 webinar, hosted by Acting Editor in Chief Toby Lasserson, focused on different projects going on across the Cochrane Community. Recordings of the webinar presentations are available below.
Funding announcement from UK NIHR
Karla Soares-Weiser, Acting CEO
Generic medicines for COVID-19: upcoming reviews
Vanessa Piechotta, Research Associate and Managing Editor, Cochrane Haematology
Living systematic review guidance
Claire Iannizzi, Research Associate, Cochrane Haematology
Learn about other prior webinars in the Join the Conversation series and sign up for future webinars here.
May 14, 2021