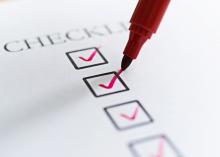 Watch our webinar on how to improve your dissemination products and share Cochrane evidence more effectively
Knowledge Translation (KT) in Cochrane is delighted to announce the launch of its Dissemination Checklist - a new resource that can improve the quality, consistency and translatability of dissemination products that present findings of a Cochrane intervention review. 
The 18-item Checklist and accompanying guidance is for anyone in Cochrane who produces, or wants to produce, dissemination products or dissemination product templates.  It shares the components of a high-quality dissemination product that you can check against your own product, along with tips and suggestions to use when creating your product, and examples of applying the new Checklist in practice. 
The webinar videos  below covers the following:-
Brief review of the checklist items
How the checklist can be used in practice
Where to find further support and resources to improve dissemination products
Additional Resources
Let us know what you think! Are you finding these resources helpful? We welcome feedback on how we can support you in your dissemination efforts. Tell us what you think about the new Checklist by emailing Stephanie Lagosky, KT Project Officer at slagosky@cochrane.org
October 25, 2019