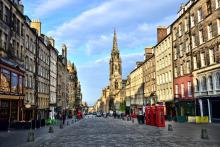 Cochrane UK is delighted to be hosting the 25th Cochrane Colloquium, at the Edinburgh International Conference Centre in Scotland, from 16th to 18th September 2018.Find out more about what is planned for the 2018 Colloquium:
Schedule, sign-up and the Colloquium app
The full schedule of talks, workshops and special sessions can now be viewed here. 
Find an overview of the programme schedule here as well as details of workshops and symposia taking place the day before and after the Colloquium.
You will be able to sign up for sessions and talks from 22 August.
The Colloquium app will also be available from 22 August.
---
Plenary sessions
We are delighted to be joined by a renowned list of regional and international speakers. They will be bringing a variety of perspectives - researcher, patient, carer and clinician - to bear on key issues and challenges in evidence-based practice, including:
Jennifer Johannesen: The trouble with patient and public involvement (PPI) in research
Margaret McCartney: Everyday annoyances: why is evidence in real life so hard?
Sue Ziebland: Understanding and learning from patients' experiences: developing a global perspective
Ruth Elwood Martin: Engaging women in prison, prison staff and academics in participatory health research (PHR) to address concerns raised by the women themselves
Victor Montori: Caring with evidence, minimally disruptive medicine, shared decision making
Christine Borgman: Big Data, Little Data, or No Data? Systematic Reviews in an Age of Open Data
Dalila Martínez: Physician as patient, improving adherence to treatment in infectious diseases, learning from patients' experiences to improve health care.
Find out more about the confirmed plenary sessions and speakers here. 
---
Special sessions
A number of special sessions are taking place at the Colloquium. These will highlight initiatives and ongoing work within Cochrane, as well as foster interaction and the development of partnerships with external organisations, including Wikipedia, Testing Treatments, Choosing Wisely and more.
Find out more about the confirmed special sessions here.
---
Social events
This year's gala dinner, taking place on Monday 17 September, will be held at the National Museum of Scotland, where guests will enjoy pre-dinner drinks followed by a three-course meal in the light filled Grand Gallery. The evening's entertainment will include traditional Scottish music and a ceilidh, followed by a disco.
You can book your place here. Guests are asked for a £10 contribution, which will be donated to the charity Social Bite, dedicated to tackling homelessness in Scotland.
---
Exploring Edinburgh
You can now book on to a variety of tours an experiences when you register for the Colloquium. From whisky or gin tasting, to guided tours of Edinburgh or St. Andrews, there's something for everyone. Find out more here.
You can also sign up to the Anne Anderson walk here. Only 80 places are available, so please book early to avoid disappointment.
Plus, find out what to see and where to eat in Edinburgh here.
---
August 8, 2018