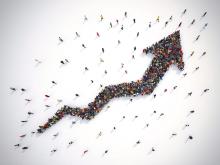 Dr Helen Handoll is Co-ordinating Editor of Cochrane Bone, Joint and Muscle Trauma Group, one of four Groups in the Acute and Emergency Care Network. She shares with us some of her personal views on the work of her Group this year, and outlines the opportunities and challenges facing Cochrane Bone, Joint and Muscle Trauma in 2018.
This Blog presents commentary and personal opinion on topics of interest from a range of contributors to the work of Cochrane. Opinions posted on the Cochrane Blog are those of the individual contributors and do not reflect the official views or policies of Cochrane
Can you tell us a little about the main highlights from 2017? What have been the most impactful reviews or activities of work for Cochrane Bone, Joint and Muscle Trauma Group this year?
HH: I'm glad you asked about the highlights. These have to include the publication of our two largest reviews this year, both of which were a long time coming. I would like to pay tribute to the author teams of both reviews for their perseverance, including coping with the inevitable search updates and some hefty editorial feedback. One review (39 trials; 18 comparisons) was of special interest to our funder and it was rather nice to be able to report its publication: Injected corticosteroids for treating plantar heel pain in adults. The second review (50 trials; 1 comparison) featured as the highlighted review on the Cochrane Library, which is a cheerful way to end the year: Antioxidants for preventing and reducing muscle soreness after exercise.
Another highlight is the award by the NIHR (UK) of the Cochrane Programme Grant for hip fracture management reviews to our deputy Co-ordinating editor, Xavier Griffin. I very much like the approach that Xavier has taken with the proposal with its very strong focus on impact, directly linking with future guidelines, and the inbuilt collaboration with two other CRGs, Cochrane Anaesthesia, Critical and Emergency Care and Cochrane Dementia and Cognitive Improvement.
What have you been most proud of?
HH: See above.
What has been the most challenging piece of work or Review for you?
HH: In truth, they are all challenging. Happily, some make it to publication but others do not - it has been a grim task this year (2017) to reject several reviews on really key topics. I welcome the fact that Cochrane now has an official rejection policy in place to help manage the expectations of both CRGs and review teams.
The full SF Implementation plan was announced to the Cochrane Review Groups in August. Can you remember your first impressions of seeing the plan?
HH: Yes, I can. There was a long lead in time to this event during which I and core members of the editorial base had actively participated in the several consultations and provided feedback on previous drafts and presentations. Much of the plan was new material and our feedback appeared to have made rather little impact on the stuff that had been circulated previously. On the plus side it appeared a comprehensive and coherent plan; on the negative side we felt almost no part of it.
What did you like/ not like so well? What was the reaction from your colleagues and the Group?
HH: A mixture of resignation – it is happening anyway – and relief – it is always good to have a workable plan.
Your group will be part of the Acute and Emergency Care Network – what communication have you had with other CRGs within the Network?
HH:  Rather little mention so far. I recall a short email exchange with the Co-Ed of one Group – rewarded by a lovely photo of her and her one-year old son.
What thoughts have you had since understanding more about the formation of the Networks?
HH: So much depends on the character of the appointed Senior Editor. I hope they will be a strong advocate for the topic areas covered by our Groups. Otherwise, it is still early days and I really am waiting to see how it develops.
What do you see as the main opportunities?
HH: Perhaps opportunities for seeking solutions and support for editorial dilemmas and issues. Again, I want to see what happens.
What do you see as the biggest challenges in 2018?
HH: Delivering on the first set of reviews listed in the hip fracture management programme grant (see above) and on the reviews that are replacing the huge, highly accessed but now out of date prevention of falls in the community review.
As a Cochrane Co-ordinating Editor, what do you see as your key priority in 2018, and as the Network forms together?
HH: Delivering on high quality and impactful reviews.
What would be your message to other Co-Eds, or indeed other CRG staff, perhaps who share the same concerns/excitement?
HH: Run for the hills! Otherwise engage….
January 16, 2018