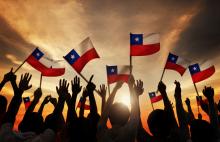 Dear Cochrane Colleagues,
We are looking forward to seeing as many of you as possible at the forthcoming Colloquium in Chile, 21-25 October. The theme is: The challenge of diversity in Cochrane: diverse reviews for diverse health decisions by diverse audiences. We particularly want to hear from you about how well you think Cochrane is responding to this specific challenge. Comments and questions about it can be submitted to the Council at support@cochrane.org or discussed in person at the 'Meet the Governance' session in Chile on Thursday 24 October.
A key part of the Council's remit is to raise important matters with, and provide input to, the Governing Board on behalf of Cochrane Groups and members. The Board and Council will then work together, with the Central Executive Team, to address these. So, one of the key outputs from this year's Colloquium will be a better understanding of how we might take forward priorities for improving organizational diversity.
The Board and Council are making good progress in a number of priority tasks to be completed before the Colloquium. We seek to create a framework which encourages cooperative and effective working practices, allows safe and constructive discussion of controversial issues, and protects the well-being of individuals and the reputation of Cochrane. These are essential in an accountable, international and diverse organization like Cochrane.
After wide consultation, the Council is finalizing a set of 'Principles of Collaboration' (previously referred to as a 'Code of Conduct') which describe the behaviour expected of everyone interacting with Cochrane. These principles complement our other official policies. They will be considered by the Board in Santiago, and we expect them to be presented to Cochrane members at the Annual General Meeting on 23rd October 2019.
A new Complaints Resolution Procedure is being developed by a joint Board-Council working group to complement the Principles of Collaboration document. It is a fundamental principle that, in the first instance, complaints should be dealt with directly between those involved, and then at the most local level possible within the organization. This recognizes that the earlier and more directly a complaint is raised, the greater the chance that it will be resolved successfully. This Procedure will also be submitted for the Board's approval and then presented to members at the Annual General Meeting.
Once again, we look forward to seeing many of you in Santiago. If you are not able to come, please consider giving feedback by e-mail or the online forums.
With best wishes
Martin Burton and Catherine Marshall
Board Co-Chairs
Miranda Langendam and Craig Lockwood
Council Co-Chairs
5 September 2019