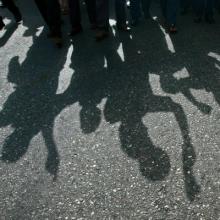 The March for Science is organising an international Day of Action on Saturday 4 May, 2019.
 
Over the last two years, the global March for Science movement has organized 1,000 events and mobilized millions of people to support science and justice. This year, the March for Science will highlight the need for science-based climate action and healthcare, as well as the importance of science education.
 
A large flagship march is being organised in New York City, with satellite marches and events, such as science town halls, rallies and outreach events, taking place in cities around the world on the same day.
 
As an official partner of March for Science, Cochrane encourages our contributors and colleagues to get involved in participating in or planning a March for Science event in your area.
Get informed about what's happening
Check the March for Science website to learn more about the March's mission and values, or to find a march or event near you.
 
Promote your involvement and the March for Science
Post or retweet news on social media using the #MarchforScience2019 and #May4Science hashtags. Share information about a local march or event with your local networks – your Cochrane colleagues, your host institutions, local partners, or other groups that you work with or are involved in.
Join March for Science Cochrane Crowd's classification challenge
Cochrane Crowd, Cochrane's citizen science platform, is a global community made up of volunteers who are helping to identify the research needed to support informed decision-making about healthcare treatments. Cochrane Crowd is hosting 1 hour screening challenge 10-11am BST on 4 May and efforts will contribute to the goal of 3 million classifications. This is a perfect virtual event for those wanting to participate in the March for Science but don't have have a local event to attend! No experience necessary and all are welcome to join. Read more about the March for Science Classification Challenge!
 
Get involved!
Want to find out if there's a satellite march or event near you? Check the listing of registered marches and events and register to attend.
 
Reach out to local March for Science organizers ­– let them know that you work with an official partner organization and offer to help get involved in planning. Are you or a Cochrane colleague in your area willing to speak publicly about the key role that science plays in society and how it affects critical issues in your region? Consider liaising on getting Cochrane contributors included as event speakers or spokespeople. Don't forget to review our Spokesperson policy for guidance, and please contact Jo Anthony with any questions or for support on developing messages.
 
Find out if your local event is scheduled to have an exhibition space or interactive activities. This is a great promotion activity for Cochrane Centres!
If you're marching
Take photos of you and your poster for social media. Please share them with us as we will have a round-up news item after the Day of Action. You can also use the official March for Science posters.
 
Questions or suggestions?
If you've got questions or other ideas on getting involved and making the March a success worldwide, please contact us; we'll be updating this resources page with ideas, resources, and news right up to 4 May.
25 April 2019