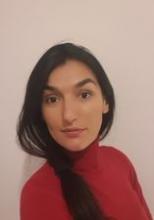 The Cochrane Council welcomes Monserrat Conde, who was recently appointed as the Council member representing Cochrane Fields alongside Stefano Negrini, Council Co-Chair.
Monserrat is a Co-director and the Field Executive of Cochrane Campbell Global Ageing Partnership (CCGAP), where she is involved in evidence syntheses and leads knowledge translation projects such as the CCGAP Wikipedia project. As an early career researcher, she advocates for evidence-informed policies to foster age-inclusive societies.
Monserrat is currently a member of the WHO International Consortium on Evidence and Metrics for Healthy Ageing, developing consultancy work for the UN Decade of Healthy Ageing (2021-2030). Her professional background also encompasses senior roles in non-profit sectors and extensive experience in physiotherapy practice and higher education.
21 December 2021