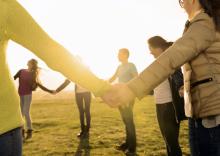 7th February Update
As of January 2018 we started sending out these membership activation emails through a gradual process. We hope to have sent out all emails by the middle of February. Everyone who does not respond will receive a reminder after 6 weeks.
Key messages
We are writing to everyone in Cochrane for two reasons

For those eligible, we want them to activate their membership status
We want everyone to opt in to receiving communications from us in future

All Group staff are eligible for membership, please activate yours as soon as you receive the message
The information below is so you are aware what is going on in case anyone comes to you with concerns.
Who we are contacting
We need to write to every contact that we hold on our systems.
We appreciate that some contacts have a higher level of engagement than others, e.g. if you are a author on multiple reviews you are highly engaged in Cochrane work, but if you are a peer reviewer who once did a peer review then you may be surprised to be on Cochrane's systems. With this in mind we are sending a variety of messages tailored to people's level of engagement, so that everyone receives appropriate messages.
Why we are contacting people
We have two primary objectives for the mailings:
Membership: we will be offering all eligible contributors the chance to activate their membership
Data protection: we will be asking everyone to 'opt in' to receive future communications in order for us to be data protection compliant.
We will also be asking people to set up their Cochrane account if they do not already have one.
Who qualifies for membership
For the initial wave of members, we have tried to identify everyone who has actively contributed to Cochrane in recent years and also anyone who has ever written a Cochrane Review. These people, alongside anyone with a staff role in a Cochrane Group or a role on a key committee, will be offered membership in the initial round.
In future, membership will be based on thresholds of contribution now that we are able to track a broad range of contributions.
What is involved in activating membership
In the email people will receive instructions to activate their membership. It is a simple process of reviewing terms and conditions and accepting them.
The main feature of the terms and conditions is that to be a member you must declare that you are not employed by a pharmaceutical or medical devices company.  For more information, please see the full terms and conditions.
Why we need people to 'opt in' for future communications
We are updating our data protection policies to bring us in line with EU legislative changes which come into effect in May 2018. The key point is that in future we will only be able to send newsletters and similar communications to people who have actively opted in to receive such mailings.
We think it is really important to stay in touch with our community, and we see our newsletters showcasing our evidence and other exciting news as a really useful channel to do this, so we are urging people to opt in to receive communications from Cochrane and also sign up for Cochrane Connect and any other newsletters of interest.
The email around opting in relates to everyone who we have on our databases, so people will be contacted about this regardless of whether they qualify for membership or not.
Why we are asking people to set up their Cochrane account
We want people to be managing their own user accounts as much as possible. The Cochrane account is your key to accessing Cochrane tools and services, including RevMan, Crowd, and TaskExchange. My Account is the new area to manage your Cochrane account. We're actively developing the My Account area, and over time we hope to be able to display information about what you have contributed to Cochrane, what learning you have completed, and provide a service to download contribution certificates. We will also be using this space to display membership status and other details around available benefits.
At present, My Account allows you to customize your preferences around newsletters and communications and confirm your interests so that we can contact you with specific issues that might be of interest to you.
Who to contact
If you have any queries about the mailing or if you receive any questions from people who have received the mailing please contact membership@cochrane.org
FAQs
We have put together some anticipated FAQs below and we will add to this list as questions come in.
What are the benefits of membership?
We want membership to be a recognition of what someone has contributed to Cochrane's work, but in addition, we also offer a range of benefits to members, which include:

voting rights and eligibility to stand for internal governance positions;
allow you to track all of your contributions to Cochrane
discounts on certain products and services, e.g. Cochrane Interactive Learning; and
members only communications.

Over time we will gradually expand on these benefits as the membership concept develops.
Why haven't I received an email?
We are contacting most people we have on record, but some people have already proactively given consent to be contacted. If you have done that in My Account, then you might not get the opt-in opt-out email. You can always check your opt-in/opt-out status by logging in to My Account and going to the Communications tab.
I think I should be a member, but I have received an email that just asks about my communications preferences.
If the email you receive doesn't talk about activating your membership, but you believe you should be a member, you are welcome to contact us to ask why you are not a member and where appropriate we will correct any mistakes in our records. Our contact address is membership@cochrane.org
What sort of communications are you talking about?
We use the term 'communications' to mean general email messages from the organization;  this may include newsletters, Annual General Meeting information, key news or decisions. Examples of our newsletter can be seen at the Cochrane Connect page.
I am an author and I want to opt out. Will the Cochrane Review Group still be able to email me?
Yes, personal contact with individuals in Cochrane relating to your work with us is not covered by this.
Can I opt out, but still choose to receive the Connect Newsletter?
No, opting out will mean you cannot receive newsletters.
What is the legislation that has caused these changes?
We are responding to the General Data Protection Regulation (GDPR) which takes effect on 25 May 2018. For more information please see the GDPR Guide. 
I still have a question…
February 7, 2018