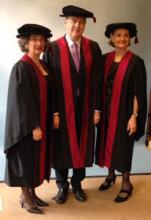 Co-ordinating Editors for Cochrane Oral Health, Helen Worthington and Jan Clarkson, have been awarded honorary fellowships from the Board of The Faculty of General Dental Practice (FGDP) at the Royal College of Surgeons of England in London. They were nominated for the awards by Cochrane colleague Trevor Johnson.
A faculty of the Royal College of Surgeons of England, the FGDP is the UK's only professional membership body and provides guidance and education specifically for general dental practitioners and dental care professionals as part of its aim to continually improve practice. Fellowship is the highest award offered by the FGDP and is considered a pinnacle of achievement for those within the profession. It recognizes excellence in primary dental care and the commitment to professional development of its recipients.
Commenting on their awards, Helen and Jan said: "We are both honoured to receive the award. We recognize the potential to improve the quality of dental research in practice, where most of dentistry is delivered, and to increase its impact." Both academics look forward to working more closely with the Faculty, representing all members of the dental team, in taking forward research in general practice and the translation of evidence for patient benefit.
Congratulations!
21 April 2016