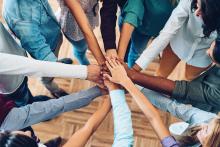 Cochrane Review on methods of consumer engagement in health is being updated
That patients, families, their representatives and the broader public (collectively, 'consumers') should be actively involved, or engaged, in all levels of healthcare policy, research and services is an idea that has well and truly arrived. Amongst the explosion of literature, standards and guidance documents is a familiar refrain: 'More evidence of impact, please'. A team of Cochrane reviewers has partnered with a stakeholder advisory group to do just that, by updating an existing Cochrane Review on methods of consumer engagement in health.
The topic was selected as a priority review for the Cochrane Consumers and Communication Group (CCCG) after a comprehensive priority setting activity. Debra Kay, co-author and consumer member, SAHMRI Consumer and Community Advisory Committee, explains, 'I wanted to be part of this review update because this topic is right at the heart of the questions that consumer groups I work with want answered in order to better influence healthcare at a systemic level. I was also keen to support a respectful and genuine coproduction process between Cochrane reviewers and stakeholders.'
Given the rapid developments in the consumer engagement space since 2009 (when the last update was published), the team elected to work on a new protocol, just published and available here. Lead author, Louise Wiles, University of South Australia, says, 'our advisory group includes mainly consumer representatives, along with policy makers, health service managers, clinicians and researchers. We first showed them the 2009 update and asked them what they would like to change. After having incorporated their feedback into a draft protocol, we asked for a second round of feedback before finalising the protocol. I've been blown away by how much the review direction and approach has changed thanks to stakeholders' input, from the objectives, terminology, data extraction items and even a commitment to write the entire review in plain language. As a result, we feel so much more confident the review is going to be useful and relevant to the people who might want to use it.'
In another exciting development, the author team and stakeholders have agreed to go under the microscope, and have their engagement approach evaluated by Cochrane Consumers and Communication Group Editor, and PhD student, Annie Synnot. Annie explains, 'While we have lots of published examples of author teams working together with consumers and other stakeholders on systematic reviews, they are very rarely evaluated. By documenting how stakeholders and authors worked together on this Cochrane Review, and exploring the impact on the people involved, the research process and the systematic review itself, I hope to provide valuable information for future systematic review authors wanting to do something similar'.
With the protocol now published, the author team can start the real work – finding the studies and analysing the results. And in the spirit of engagement, they'd love to get your help! If you know of any randomised controlled trials that assess effects of consumer engagement in health services, policy or research please let us know.
You can find the latest information about the review progress, share any feedback or contact the team here.
August 2, 2018