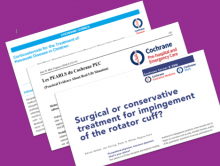 In this Cochrane community blog Karen Head (Project Manager, Knowledge Translation Department, Cochrane), Justin Mann (Assistant Editor, Editorial and Methods Department, Cochrane) and Cat Fowler (Associate Editor, Wiley) talk about publishing summaries of Cochrane Reviews in journals to help Cochrane evidence reach health professionals.
Many Cochrane Groups work with medical journals to either re-publish the short versions of a Cochrane Review, or to publish an original commentary based on the results of a Cochrane Review. These articles (sometimes called 'Cochrane Corners' or 'Practical Evidence About Real Life Situations' [PEARLS]) may include clinical scenarios or commentaries on how the evidence can be applied. Examples of different types of article can be found at the end of the 'Reviews in Journals' page of the Cochrane KT learning webpages.
At the end of March 2021, some of these groups met to share their experiences of writing, translating, publishing, and evaluating these types of journal articles.  The discussions at the meetings have been summarised and notes are now available.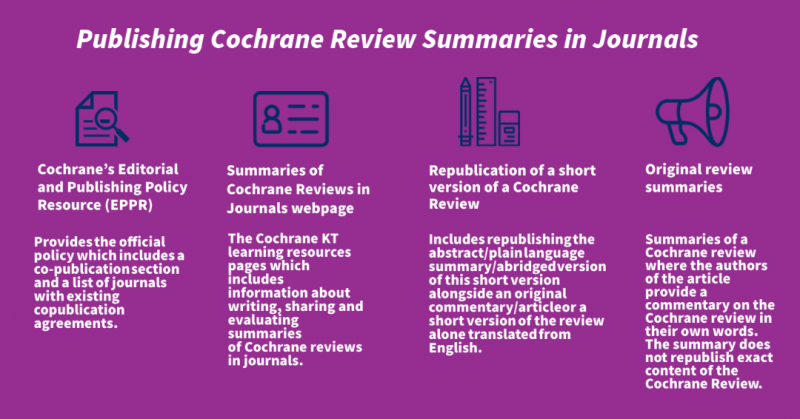 When to contact Wiley?
This was the biggest area of discussion! The Cochrane Editorial and Publishing Policy Resource provides the most up to date information about when co-publication agreements are needed and provides a list of journals where such agreements have already been made. However, our advice is: if in doubt, please ask! Any requests can be made through Justin (jmann@cochrane.org) and Tony Aburrow (taburrow@wiley.com).         
Wiley support the desire to share Cochrane evidence widely and have developed processes and templates to support Cochrane Groups in discussions with journals.
Sharing what has been done across Cochrane
Those at the meeting expressed an interest in better sharing of original articles based on individual Cochrane Reviews. It was thought that this could reduce duplication across Cochrane for summaries written on the same Review and allow Review Groups better information about how their Reviews had been disseminated. We are starting to think about how this could be completed and if you would be interested in knowing more or helping think of solutions, please contact Karen (khead@cochrane.org).
Evaluating Cochrane Corners
The attendees share some interesting experiences where journals identified that Cochrane Summaries had been widely accessed and enjoyed by their readers. However, there is still a desire by some to understand more about whether the summaries are having the impact the Groups hoped for and were effective use of their limited dissemination resources. The Knowledge Translation team is pulling together a small group of people from Cochrane Groups who want support to evaluate their activities. If you are interested in joining this small evaluation group for your review summaries then please contact Karen (khead@cochrane.org).
21 April 2021