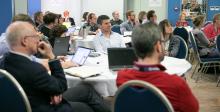 REMINDER: Submissions for hosting Cochrane's annual business and networking meetings for 2021 and 2022 are now open!
Governance Meetings are Cochrane's annual business meetings. They provide an opportunity for Cochrane's Group staff and Executives as well as Cochrane's Governing Board and Council to meet and discuss the organization's strategies and priorities, and how these are being developed and implemented. They represent a unique opportunity for Cochrane to bring together its people from around the world to share learning, training and drive forward our mission.
Recent Governance Meetings have been held in Krakow, Lisbon and Geneva and in 2020 we will be gathering together in Manchester, UK, 30th March – 3 April.
We are now looking for Cochrane Groups to host the 2021 and 2022 events. It is important to note that Cochrane Governance Meetings are usually held in Europe, where the location should be within two hours' travelling time of an international airport; but they can also be held elsewhere in the world provided there is an easily accessible transport hub.
Important information:
Your proposal will be submitted to Cochrane's Governing Board in 2020;  
You will be notified of the decision by the end of April 2020;
You are required to submit an estimated budget alongside your proposal and you can receive guidance on how to do this from Cochrane's Knowledge Translation Department;
All proposals must include a letter of support from your host institution and/or funders.
To apply, download the application form.
Governance Meeting hosts are given support and guidance from Cochrane's Central Executive Team throughout the organization and hosting of the event.
If you would like to find out more, contact Sabrina Khamissa, Cochrane's Event and Brand Support Officer skhamissa@cochrane.org
The closing date for proposals and supporting documentation via email is Friday 14 February 2020.
January 14, 2020