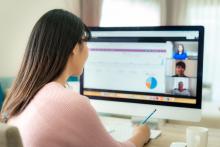 Since March this year, Cochrane has undertaken a variety of work to respond to the effects of the COVID-19 pandemic across the world. Our efforts have been collaborative and innovative involving members and contributors across our global organization. We have challenged and adapted the way we work to produce a range of resources and important evidence to support health decision-making, and we have worked in partnership with many others to respond to the time-sensitive needs of decision-makers. 
Over the coming weeks, we want to reflect on our work and learning so far and understand better the effects of this response to inform and guide ongoing and future priorities. This includes: 
Documenting what evidence and resources have been created and shared across our global community with external stakeholders;
Understand where and how these activities so far have affected or changed our internal processes, the work of our Groups, and how we operate as an organization; and
Learn what we can, at this time, of how Cochrane's response is making a difference and supporting healthcare decision-making.
To help us answer these questions, Cochrane will conduct:
A brief online survey for all Cochrane Groups. Please fill out the survey here: https://www.surveymonkey.co.uk/r/6XVNRLF. It will be open until 28 August 2020.
Interviews with representatives from Cochrane Groups (July/August via phone);
A select number of case-studies from Cochrane Groups documenting their work to date (August/September); and
A survey of users of Cochrane evidence, whether patients, carers, researchers, health practitioners, or health policy makers. Please fill out the survey here: https://www.surveymonkey.com/r/XSRW9W3 It will be open until 21 September 2020. 
We would like to learn from the experiences of contributors across Cochrane. If your Group has produced work, or is working on responding to the pandemic, we would like to hear from you, your activities and opinions, and new ideas that you think have potential to help us improve our COVID19 response for decision-makers. 
We will be in contact with Cochrane Groups via email to invite your contributions from mid-July. If you have any questions at this time, please email support@cochrane.org.
Many thanks to you, and best wishes, 
Cochrane's Governance and Strategy/Knowledge Translation Departments
 
21 August 2020