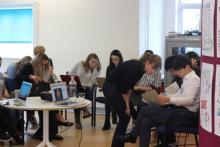 Cochrane UK has been educating High Schoolers about evidence-based medicine. In this blog post Lynda Ware, Senior Fellow in General Practice, and Selena Ryan-Vig, Communications and Engagement Officer, share with us how they got started and what they have learnt.
Since 2016 we have been visiting secondary schools in and around Oxford to talk about Evidence-Based Medicine (EBM) and its relevance in our everyday lives. We already had an established community programme, known fondly as the 'Women's Institute (WI) talks', and the schools project evolved from this. To be more precise, the venture was suggested by two WI ladies, who questioned why Cochrane wasn't speaking to young people, whose deep-rooted aversion to seeking medical help and reliance on Dr Google are well known.
In November 2016 we faced our first audience of students in an after-school Science Club. We realised immediately how hard it is to teach well and that we would have to learn quickly if we were to survive. Nevertheless, our first foray into the world of education was well received and we can now boast a growing portfolio of schools who welcome us into their classrooms.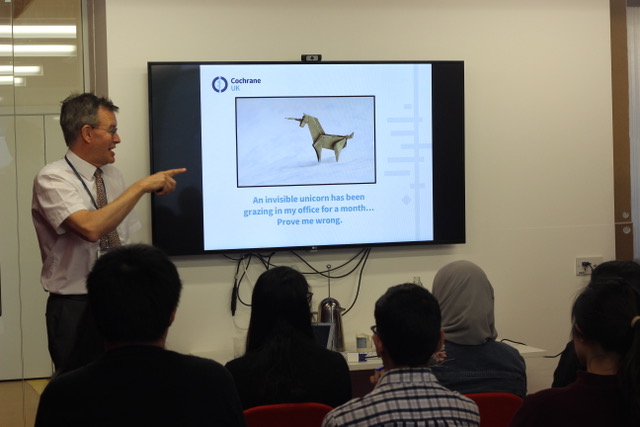 In our talks and workshops we aim to bring an awareness of why it is important to question the evidence behind medical claims. We use topical newspaper headlines to illustrate how medical evidence can be misrepresented in the media - how it can sometimes be inaccurate and sometimes just plain wrong. We illustrate the relevance of EBM on a personal, everyday level by looking at how we choose cold remedies. We consider medical interventions at national and global levels, using the HPV vaccination programme as an example. We look at what constitutes a randomised controlled trial and how a systematic review is produced.
With the unfailingly generous encouragement and feedback from the teachers we met, we soon appreciated that just talking at the students quickly lost their attention and that we needed to use interactive activities to make our points effectively. Different forms of communication, such as animations and videos, also hit the spot.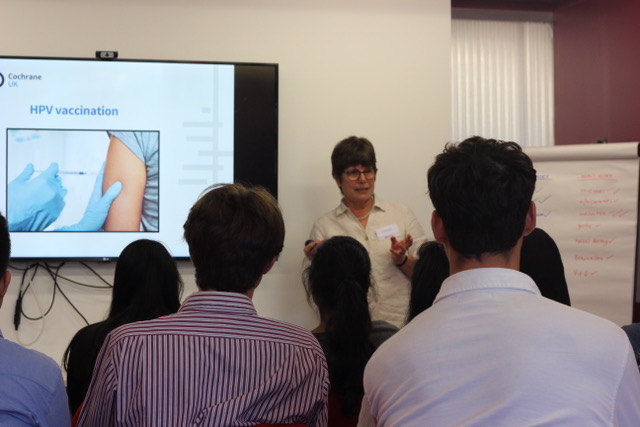 We have taught pupils from Years 9 -13 in formal lessons and in extracurricular science and medical clubs. Recently we organised our second half day workshop on EBM for sixth formers applying to read medicine. This took place in June with twenty five Year 12 students attending from local schools. An interactive session with Anna Noel-Storr was included to introduce Cochrane Crowd and to give a taste of what systematic reviewers do. You can read more about the first workshop we ran, in October 2018, here.
The schools outreach project now has a momentum and we are getting known in and around Oxfordshire. We discovered that contact with schools is most successfully achieved by a posted letter (teachers are bombarded with emails and are unlikely to read them), followed by phone call to the headteacher or head of science. We have found that it is important to emphasise that the sessions are free of charge.
In addition to our schools visits, Science Oxford invited Cochrane UK to take part in their 2019 STEM programme and we held a workshop for a group of Year 10 pupils in the Cochrane UK office. We have also contributed for the last three years to the annual Medics' Conference, hosted by Magdalen College School.
We are very keen to extend the programme across the UK and would love to hear from others who might be interested in getting involved. We would be happy to give support and training, and would also share our various slide-sets and resources. Equally, we would be delighted to hear from anyone who has undertaken similar teaching to learn about your experiences.
We can be contacted via Cochrane UK.
Lynda Ware,
Senior Fellow in General Practice
Cochrane UK
Selena Ryan-Vig
Communications and Engagement Officer
Cochrane UK
22 July 2019