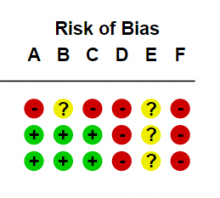 The following statement has been approved by Karla Soares-Weiser (Editor-in Chief) and the Cochrane Editorial Board
This statement addresses the question of when and how Cochrane Review Groups (CRGs) should advise authors to adopt the revised Risk of Bias tool (RoB 2) in Cochrane intervention reviews. Based on the findings of a pilot that has been conducted within Cochrane and the current status of implementation, it is recommended that: 
RoB 2 is recommended as the preferred tool for assessing RCTs in new intervention reviews as per the Handbook, but RoB 1 may still be used (see v5.2 or v5.1 of the Handbook);
Reviews using RoB 2 must be prepared in RevMan Web because the functionality to record and display RoB 2 will not be added to RevMan 5;
The decision of which tool to use should be made between authors and CRG staff before the protocol has been drafted (switching to RoB 2 after protocol publication is discouraged);
There is no expectation that reviews already in development will adopt the method retrospectively;
There is no expectation that updates will adopt the method at any point, and authors and CRG staff can decide whether to switch to RoB 2 at the point of update.
Why was a graded approach taken for RoB 2 and what is the status of the pilot?
The revised tool represents a change to the way bias is assessed and reported in Cochrane Reviews to guide authors through a meaningful, results-based assessment of bias that can easily be overlooked with the existing tool. The Cochrane Scientific Committee approved RoB 2 in 2017 and it has since been reflected in 2019 versions of MECIR and the Cochrane Handbook, which has been followed by a graded approach to implementation to prepare teams and technology for the transition. 
Cochrane launched a pilot at the Krakow governance meeting in 2019 to identify and mitigate issues with usability, technology integration and training. All teams wanting to use RoB 2 were encouraged to join and over 80 reviews teams across 36 CRGs have done so as of 30 October 2020. The status of the Pilot, which has been coordinated by the Methods Team in the Editorial and Methods Department (EMD) and the Bias Methods Group, and learnings from it are described in more detail in communications accompanying this statement.
What support will be available?
The EMD Methods Team has been collecting feedback throughout the Pilot to build a set of tailored resources and guidance to support authors and CRGs as uptake of RoB 2 increases. The Methods Support Unit (MSU) has been working closely with the Network Associate Editors and CRGs participating in the Pilot to transfer the knowledge and editorial tools that have been developed to build the capacity needed as uptake of the tool increases. CRGs who have not participated in the Pilot will receive hands-on support for the first protocol and review using RoB 2 that goes through their group and training to manage subsequent reviews. The MSU will provide advice and guidance on an ongoing basis but will not routinely review the application of RoB 2, unless additional support is needed (e.g. for large network meta-analyses or reviews including a range of study designs).
A RoB 2 Starter Pack and set of FAQs are now available here to support Cochrane authors and editors during the transition of skills by bringing together a range of resources, including:
Links to guidance and training materials;
Data extraction tools;
Editorial checklists for protocols and reviews;
Practical advice about using the tool in RevMan Web;
Handy tips from CRGs and authors who have used the tool;
Advice about using RoB2 for cluster and crossover RCTs;
Where to find archived guidance for RoB1 for reviews and updates not using the revised tool.
When will it be mandatory to use RoB 2 instead of the existing tool?
There is currently no date for when RoB2 will be mandatory for new intervention reviews. The implementation of RoB 2 is tied to the wider development and uptake of RevMan Web because functionality will not be implemented in RevMan 5. It is therefore not feasible to make RoB 2 mandatory for all new intervention reviews including RCTs until planned RevMan Web developments are in place and tested, and CRGs are using it as standard. Furthermore, projects that were initiated to complement the Pilot by quantifying the usability and value of RoB 2 compared with RoB 1 in Cochrane Reviews have been delayed by the pandemic.
The phased implementation of RoB2 resulting from the Pilot will continue to ensure all teams ready to use the tool have the support they need to do so. The Pilot team will continue to collect feedback and develop resources to support the ongoing implementation of RoB 2.
This statement is part of a series of communications about RoB 2 following publication of the first Review from Cochrane's formal RoB 2 Pilot. Full details are available in the 'What you need to know about Risk of Bias 2 in Cochrane' Community post. 
19 November 2020