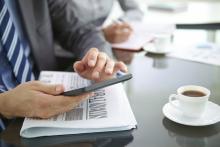 Susi Wisniewski is former Managing Editor of the Cochrane Dementia and Cognitive Improvement Group and Programme Manager for Cochrane Screening and Diagnostic Tests Methods Group. She remains involved with Cochrane as an author, particularly on Diagnostic Test Accuracy reviews. Since leaving her full-time role within Cochrane, Susi has launched a mobile phone app called TripLinks, which is aimed at improving business travel. Here she explains what it's all about and why it might just come in useful for your next trip or Colloquium.
The idea of TripLinks was born on my first solo transatlantic business trip: at the time I was mid-twenties and working for a global publishing company. I attended a conference in Montreal during the Jazz Festival. I was so excited by the prospect of visiting one of the world's most vibrant and multicultural cities. But when I got there the reality didn't quite measure up. At the end of my working day, I wanted to experience the city and decided to go for a drink, but it was pretty intimidating sitting in a bar on my own. So rather than go back to my hotel room and accept defeat, I went to the cinema. To see Shrek. In French.
I'm generally pretty fearless when it comes to chatting to people in the right context like a conference or a networking event, but when I'm out "in the wild", I lose my nerve.
Friends and colleagues felt the same, we used to joke "there must be an app for that" but there wasn't...
Then I came to work for Cochrane. Although I was quite new to the Collaboration when I attended my first Colloquium (in Singapore), I was very lucky; I was a Managing Editor, and being based in Oxford (at the time very much the capital city of Cochrane) I had already had a chance to meet up for drinks with some of my Cochrane colleagues. The Colloquium was a fabulous experience! Meeting new people, chatting, and getting out to see the city; this is what my business travel had missed before!
The theme of a business travel revolution was one I often thought of; I did some reading around & found that a heavy schedule of business travel was often associated with higher BMI, higher levels of stress, and emotional isolation.
Business travellers are often away from their family & friends...life ticks on back at home, but staying in a city where you know nobody gives the curious feeling of being in limbo.
I chatted to friends and colleagues who revealed that they'd often have a busy day of meetings then continue working in their rooms until bedtime to stay occupied. A sure path to burn-out! Others had more free time but not much to fill it.
Even those who ventured-out felt it could be improved; I have a vivid and surreal memory of a trolley-bus tour of the Freedom Trail in Boston. I was on my own but determined to take in the famous sights. My memories of that day are more like memories of watching a documentary; something about the fact that I had nobody to talk to means that my brain has stored it in a different file!
How could I improve this situation? It seemed to me that a glance around any busy hotel restaurant on a week night gave the answer: typically four or five tables-for-one; lone business travellers with a laptop, or checking their phone, perhaps reading the paper. What if we could get these people together? What stories would they tell each other? Perhaps they would discover a shared interest in architecture and book onto a walking tour together; maybe they'd be fellow football fans and find a bar showing that night's game. Whatever they did, I was sure that it would be more fun and fulfilling than sitting alone!
The idea for TripLinks grew until I took action, late in 2014, working with the Serious Games Studio at Coventry University to develop the wire frame for the concept. From here, we were able to secure a small European Grant to develop the app and we launched in November 2015.
The app is simple: you say where you'll be, what you want to do and when. You can use these parameters to search for events nearby to join, or to create your own invitation for others.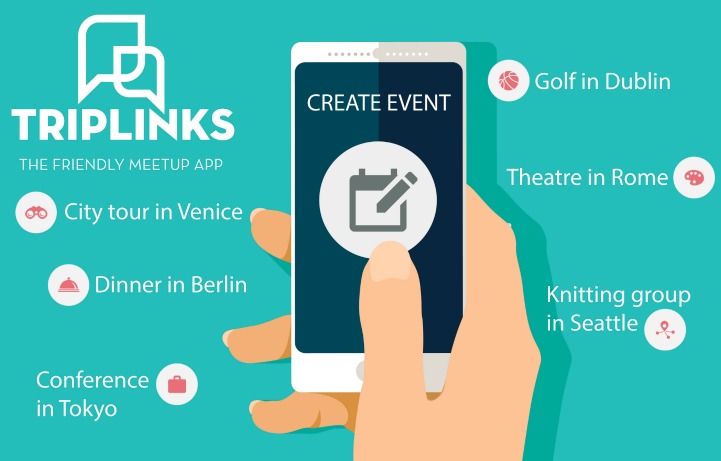 TripLinks is strictly platonic; with very limited profile information, it's definitely not a dating tool; it's not really even about networking...just a way to find someone to hang out with for a couple of hours when you're away from home.
We hope that TripLinks will improve lives; helping business travellers to reclaim a sense of self and find a work-life blend to suit them.  By encouraging meetings between people who wouldn't ordinarily meet, we hope to provide enlightening, mind-opening experiences. The great thing is, that as we've launched the app, people have started using it when they're at home, too! Perhaps their partner is away and they're at a loose end; perhaps they've moved to a new area and don't know many people; perhaps they want to practice their language skills; the possibilities seems to be endless.
We're currently trying to grow the TripLinks community; our aim is to share with as many people as possible – perhaps download for the upcoming Colloquium!
TripLinks is free to download and use and is available in the App Store and Play Store.
Registration for the 25th Colloquium in Seoul, Korea, 23-27 October, is now open!
4 May 2016