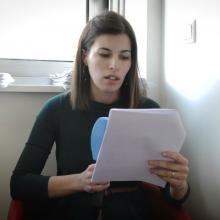 In March 2017, members of Cochrane Croatia, led by Irena Zakarija-Grković, recorded their first podcasts in Croatian. In 2016, Irena received a small grant from the Croatian Ministry of Science for the 'Popularization of Science', and what better way to do that than by translating and recording Cochrane Podcasts!
First, Hayley Hassan, from the Cochrane Communications and External Affairs team, was kind enough to provide us with all available podcast texts. Next, the texts were divided for translation among Cochrane Croatia members and representatives of six partner organizations: Croatian Association for Patients' Rights, Diabetic Society of Split, Croatian Association of Lactation Consultants, 'Shine' – Croatian Association for Social Affirmation of Persons with Psychosocial Disabilities, Croatian Nutrition Association 'Balance' and 'Parents in Action'.
Once texts were carefully translated and written in the third person, they were edited and checked by our in-house writer and researcher, Professor Matko Marušić. Finally, the podcasts were recorded, either by the translator - if willing and available - or by members of Cochrane Croatia. Again, we are very fortunate to have our own recording expert, who happens to be the husband of Cochrane Croatia's Co-Director, Tina Poklepović-Peričić, and so were gently guided by Teo Peričić and Cochrane's Paolo Rosati in the art of recording.
So far, we've recorded 6 podcasts in Croatian, which can be heard and downloaded from cochrane.org, and hope to continue translating and recording at least one per month. We plan to disseminate our translated podcasts via a local radio station (Radio Sunshine), via our Cochrane Croatia website and tri-annual e-newsletter and via our Facebook page. In addition, as part of our partner 'Memorandum of Understanding', partner organizations will promote collaborative activities on their website and in their newsletters as well.
We also plan to put together a brochure in Croatian on 'What are Cochrane Podcasts and where to find them?' and get them printed for general distribution. All of this will be presented at our upcoming Annual Croatian Cochrane Symposium to be held 8-10 June 2017 at the University of Split School of Medicine, Split, Croatia. For more information please go to: http://croatia.cochrane.org/news/9th-crocos
We hope our experience in recording Cochrane Podcasts will encourage others to give it a go. It's fun, useful and great for team building and promotion of Cochrane evidence.
Irena Zakarija-Grković
Co-Director, Cochrane Croatia
10 May 2017