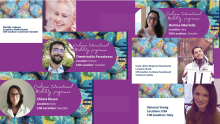 The Cochrane International Mobility (CIM) program offers networking opportunities for those eager to learn from their peers across the world. It's an open invitation to join the Cochrane Community, a global network of experts dedicated to advancing healthcare through evidence-based practices.
Purpose and Impact
The core purpose of CIM revolves around training, mentoring, and collaborative initiatives. Participants engage in activities that span the following:
Publication of Cochrane protocols and reviews: A hands-on experience in creating Cochrane reviews that inform critical healthcare decisions worldwide.
Strengthening collaboration between Cochrane groups: CIM forges partnerships among diverse Cochrane groups, creating a rich tapestry of expertise-sharing.
Additionally, participants hailing from all corners of the world have authored Cochrane reviews, contributing to healthcare decisions globally.
One key highlight of the program is its lasting impact on research collaborations. Participants who embark on placements often find themselves forging long-term partnerships that extend well beyond their initial experiences. What's more, it offers a unique opportunity for hybrid exchanges, allowing individuals to spend a few weeks at a Cochrane entity and seamlessly continue their collaboration online. This innovative approach not only facilitates knowledge sharing but also nurtures enduring connections among healthcare professionals, creating a vibrant network dedicated to advancing healthcare research worldwide.
Success Stories
CIM has witnessed several achievements:
Seven medical students from Lund University (where Cochrane Sweden is based) ventured into CIM placements in different countries: Argentina, Austria (Cochrane Austria was the first Cochrane Centre to host a CIM student), Netherlands, Denmark, South Africa and Spain. They contributed as co-authors to eight Cochrane reviews and eight non-Cochrane reviews.
Twenty-four junior researchers from various countries such as Italy, Poland, Colombia, Austria, Brazil, Japan, Netherlands, Iran, Bosnia and Herzegovina, Jordan, Peru, Greece, China, Germany and Australia embarked on CIM placements at Cochrane Sweden, becoming co-authors of 31 Cochrane reviews and 18 non-Cochrane reviews.
You can find examples of some of these exchanges here.
A New PhD Horizon
CIM is expanding its horizons further with the introduction of a new PhD program titled 'Applied evidence syntheses in health research' at the University of Krems, where Cochrane Austria is based. The PhD program is currently undergoing the accreditation process and will probably start in 2024. This program is set to nurture the next generation of experts in evidence syntheses and methodological research.
Interested?
To apply for these opportunities, simply head to Cochrane Engage where you can search for placements around the world. Consider basing the choice of your destination on the type of work done at each Cochrane group. . For more information or general enquiries, please contact support@cochrane.org.
Additionally, if you have specific questions about placements, you can also reach out to the relevant Cochrane group directly using the 'Questions & Comments' box on the posted opportunity in Cochrane Engage. If there's a Cochrane group you'd like to work with that isn't currently advertising on Cochrane Engage, you can also contact them directly to ask if they'd consider taking part.
1 November 2023