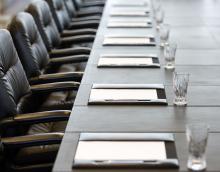 Cochrane is an international organization but is legally registered in the United Kingdom as a UK Charity and a Limited Liability Company. Cochrane's Governing Board comprises at least 13 people, who are both Trustees of the Charity and Directors of the Company. More than half of the Trustees are elected by and from Cochrane's members; with the rest appointed by the Board and approved by the members.
The Governing Board is responsible for setting Cochrane's strategic direction and overseeing the work of the Chief Executive Officer, Editor in Chief, and Central Executive Team, which leads, coordinates and supports all the operational work across Cochrane Groups to deliver the organization's strategic goals. 
The Governing Board is meeting in London on Thursday 31 August, Friday 1 September and Saturday 2 September.
Items on the agenda include:
1. The Governance Review
The review was commissioned to help us consider how well Cochrane's governance structures support the delivery of our strategic aims and charitable objectives. The Board will consider the recommendations and decide which ones to take forward.
2. Regular updates
Catherine Spencer, CEO, Cochrane, will present a report on performance (covering activity across the organisation) over the last 3 months and the Karla Soares-Weiser, Editor in Chief, will report on Methods groups activities, editorial matters and the Future of Evidence Synthesis (FES) programme. Karen Kelly, Treasurer, Governing Board, and Casey Early, Director of Finance and Corporate Services, Cochrane, will provide an update on the latest financial results.
3. Strategy 2024-2027
Catherine Spencer and Tracey Barr (the consultant we have been working with on the strategy) will talk through the latest iteration of the organisational strategy ahead of further engagement with the community at the Colloquium.
4. Income generating strategy
The Board will be asked to approve an income generating strategy that the Fundraising Committee have been developing and a new policy on accepting and refusing donations.
5. Publisher's report
Deborah Pentesco-Murphy and colleagues from Wiley will join the meeting and report on Cochrane Library's performance, product development, open access and the results of the Cochrane Library Customer Survey.
6. The Annual General Meeting (AGM)
The Governing Board will prepare for the AGM which is taking place on 4 September 2023 both online and in person. At the AGM members of Cochrane will receive the Trustees' Annual report and accounts for 2022 and hear from the Co Chairs, the Treasurer and the Executive Leadership Team about the management of the organization, our financial position and strategic priorities.

The Governing Board members will say farewell to Catherine Marshall and Tracey Howe, both step down as Co-Chairs after the Colloquium. They will be welcoming the new Governing Board interim Chair, Jordi Pardo Pardo.
If you would like to contact Cochrane's Governing Board, please email: support@cochrane.org
28 August 2023