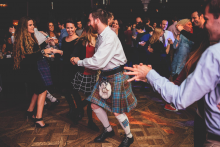 Sign up for meetings, abstracts, and special sessions for Cochrane's 25th Colloquium in Edinburgh is now OPEN!
If you're new to Colloquia, and Edinburgh is the first Cochrane Colloquium for you, Holly Millward, Cochrane's Events and Brand Support Officer for Cochrane can offer some practical tips and advice. Holly works within our Knowledge Translation Department and part of her role supports Groups host events as well as our Governance Meetings and our annual flagship organizational meeting, the Cochrane Colloquium. Quebec was Holly's first Colloquium, back in 2013.
So what can you expect?
Cochrane Buddies
is new for 2018! Cochrane Buddies are people who have been to multiple Colloquia and will be available during breaks and lunch based at the Cochrane Community stand in the main exhibition space, Cromdale Hall. Buddies will be there to provide advice and support to newcomers, consumers and other attendees. They will be wearing a bright 'Cochrane' sash so you can't miss them! The Community stand will be easy to find and is a great meet-up place for you and your Cochrane colleagues. Do head over to the Community stand if you have any queries, or just to say Hi to us!
Social media
Whether you will be in Edinburgh or not, you can stay up-to-date with the key discussions on Twitter. Use the event hashtag: #Cochraneforall and join the conversation.
General advice
Plan which sessions you would like to attend before you arrive – take a chance to look through the full schedule and sign-up to the sessions you would like to attend before you get the Colloquium;  it can be an overwhelming task when you are there!
 
Try out each of the different session types – keynotes are a great chance to get a topic overview from leading experts; special sessions let you provide feedback on organization-wide priority topics; workshops are useful for hands-on training; oral sessions give you a chance to hear about specific research or projects
 
Take a breath – during concurrent sessions there will be lots of options to choose between. Pick carefully and don't worry if you think you will miss something, it is likely to come up again in another session. Also, ensure you have scheduled breaks, and you take lunch – Colloquium days are long and it's important to pace yourself
 
Join in with the social events – whether it's learning to Ceilidh, going on a historic bus tour, or having a laugh with your colleagues on the Gala Dinner dance floor, take a moment to have fun and feel the Cochrane community spirit!
If you're feeling lost or unsure, head for the Cochrane Community stand in Cromdale Hall. The Community stand will be situated in the middle of the room, next to the Wiley/Cochrane Library stand. You'll always be able to find Cochrane staff and Buddies nearby to help.
Schedule & sign-up
Download the Colloquium app, or login to the website to see the full schedule and sign-up for the sessions you want to attend.
Once you've signed-up for everything you can then download the sessions to your Outlook or Google calendar, or see your schedule in the app!
The app is available for Android and Apple devices, from the app stores, search 'Cochrane Colloquium 2018'. Use your Colloquium account details to login to your personalized schedule.
Social events
There are lots of social events and tours available alongside the Colloquium:
Safe journey and we look forward to seeing you in Edinburgh!
Holly Millward
Events and Brand Support Officer
August 23, 2018