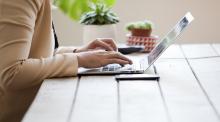 Cochrane Training presents the next in their Cochrane Learning Live webinar series: Using GRADE and the GRADEpro GDT online software in your Cochrane Review on May 10th, 12:00 UTC.
This webinar will be an introduction to how to use GRADE to interpret and assess the certainty / quality of the evidence in a systematic review and how to present the evidence in a Summary of Findings Table. Topics being covered include assessing evidence of outcomes that could be pooled or not pooled, absolute effects and authoring conclusions.
Part of the Cochrane Learning Live webinar series, this session will be presented by Dr Nancy Santesso from the Department of Clinical Epidemiology & Biostatistics at McMaster Univeirsty.  Dr Santesso is a member of the GRADE Working Group.
The presentation will be of particular interest to anyone who has previously or is currently conducted conducting a systematic review; as well as anyone part of a Cochrane Review Group and / or support review authors.   The webinar will be in a Q&A format with opportunities for participants to ask questions throughout the presentation.  It will also include a demonstration of the GRADEpro GDT software.

May 10th, 12:00 UTC
Learn more about this free webinar and sign-up here.
25 April 2016