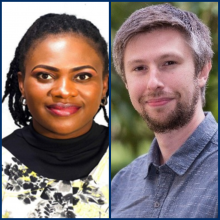 The Cochrane's Consumer Network Executive advocates for consumers and provides leadership for the Cochrane Consumer Network. This is unique in research: an international community of patients, caregivers, family members and others who are united by an interest in health evidence and who often volunteer to help produce and spread Cochrane evidence. The Network is now (January 2021) over 1800 strong and growing and represented across 79 countries. The Executive also represents the consumer voice in other areas of Cochrane, including identifying two members of Cochrane's Council.
Following calls to the community in 2020 two new people have been appointed to the Executive for, initially for one year, with the possibility of up to three years.
Maureen Smith, Chair of the Consumer Network Executive welcomed the two new members: Ndi Euphrasia Ebai-atuh and Jack Nunn. "The Consumer Executive is thrilled to welcome these two talented, committed consumers. There is no doubt that Euphrasia and Jack will add to our breadth of expertise, skills, and experience. Our Executive shares their passion for consumer involvement in evidence-based medicine and looks forward to working with them."
Meet our new members
Ndi Euphrasia Ebai-atuh
Euphrasia is a founding member and Vice President of Cameroon Consumer Service Organisation (CamCoSO). She leads the Programs and Decision Support Teams. They work with state institutions, local authorities and a wide range of both national and international basic service providers in engaging Cameroon consumers in the production and delivery decision making process, of the products they consume.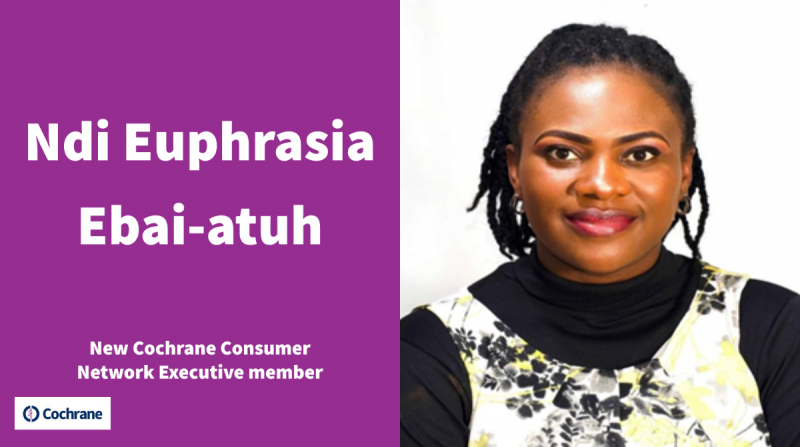 The Program and Decision Support teams are responsible for CamCoSO's development and implementation of initiatives that promote and protect the rights of the Cameroon consumer.
She holds a Master's degree in Accounting and has being lecturing with the Catholic University of Cameroon (CATUC), Bamenda since 2014. Her background in research and passion for consumer rights advocacy led her to join Cochrane in 2017, where she has worked to provide consumer inputs on reviews.
Her love for "what works" has earned her membership, several posts of responsibility and a household name with Global Evidence Actors such as African Evidence Network (AEN) and Cochrane.
 
Euphrasia will also be joining the Cochrane Council as a consumer member, alongside Rachel Plachcinski.
Jack Nunn
Jack has a long-standing interest in creating and evaluating equitable and ethical ways for people to get involved in all aspects of research and science. Jack is a PhD researcher in the department of Public Health at La Trobe University, where he is currently exploring genomic research and how people can be involved in shaping the future of this research.
Jack is the founder and Director of the not-for-profit education organisation 'Science for All', working to involve people in doing research by building partnerships between the public and researchers. Jack is currently leading the co-creation of 'Standardised Data on Initiatives (STARDIT) with multiple international partners, to create a standard way to share data about involvement in research and other initiatives.
He has recently worked on projects with Cochrane Australia, the World Health Organisation, the Australian Department of Health, the Poche Centre for Indigenous Health and the UK's National Institute of Health Research. Jack worked for a large UK health charity (Macmillan Cancer Support) for 5 years, working to involve the public in research and improving services.
Jack is a member of the Australian Federal Departments of Health's Medical Services Advisory Committee Evaluation Sub-committee, the Cochrane Advocacy Advisory Group and is the Strategy Liaison for the Wikimedia Foundation WikiJournals.
Jack is on the editorial board for 'Research Involvement and Engagement', the 'WikiJournal of Science' and the 'WikiJournal of Humanities'.

Key issues ahead for the CE:
Maureen Smith, chair of the Cochrane Consumer Network Executive says, "The Cochrane Consumer Executive has a vision for a global community of healthcare consumers (parents, carers, and the public) united by their search for high quality, unbiased information about health conditions and treatment, and who can contribute meaningfully throughout the process of production and dissemination of research. It's vision has only been strengthened by the incredible challenges of the pandemic. Never before has consumer involvement in all aspects of evidence-based medicine been more critical."
CE objectives for the next three years are:
Advocate for consumers as users and producers of Cochrane evidence
Advise and give practical support to the whole Cochrane community in engaging and involving consumers in producing usable, accessible, quality evidence to inform health decisions
Represent the priorities and concerns of healthcare consumers to Cochrane
Engage with a diverse and global range of healthcare consumers, patient-led organisations and partnerships with organisations and in the global health research community
Support consumers in their governance role within Cochrane
For more information about the Cochrane Consumer Network, and to join,  go to www.consumers.cochrane.org, follow them on Facebook at  https://www.facebook.com/groups/188375461224285,  on Twitter @cochraneconsumr or email consumers@cochrane.org.
1 February 2021